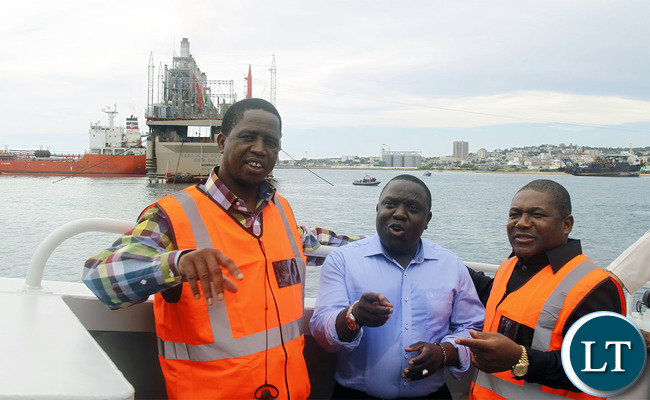 MOZAMBICAN President Filipe Nyusi has commended President Lungu for initiating a strategy aimed at effectively addressing power deficit in Zambia.
President Nyusi said this here yesterday after the two leaders commissioned the Kapowership vessel from which Zambia will be importing 100 megawatts of power.
Mr Nyusi said President Lungu's efforts to address the power crisis are admirable considering that he has only been in office for over one year.
The Mozambican head of State, who hosted Mr Lungu during a three-day State visit, also wished his counterpart success in the forthcoming August 11, 2016 general elections.
"In just one year that you have been in office, you have managed to come up with solutions to the power problem in your country," Mr Nyusi said.
It was an exuberant and euphoric moment for both leaders as they uncovered a plaque to officially commission the massive power ship.
The two heads of state later inspected the substation which will channel 100 megawatts to Zambia.
There was jubilation among the crowd that gathered at the Nacala harbour to witness the historic event.
Presidents Lungu and Nyusi also went on a boat cruise to have a feel of the gigantic power vessel docked some distance into the Indian Ocean waters. The Turkish-registered vessel had national flags for Turkey, Mozambique and Zambia mounted on it.
A satisfied Mr Lungu described the development as "splendid and a symbol of good bilateral relations for both peoples. We can't have it better than this".
And speaking during a luncheon at Clube Ferroviario, President Nyusi said the partnership with Zambia is crucial and should be harnessed to new heights.
He said this is especially in the wake of Mozambique signing agreement deals for expanded co-operation in energy, agriculture and transport sectors with Zambia.
President Nyusi said he was happy that northern Mozambique would also benefit from the Kapowership power link, which will be supplying around 115 megawatts.
He also pointed out that the discovery of gas in that country would give further impetus to supply alternative energy that can also benefit Zambia under a proposed pipeline arrangement to supply the commodity.
President Lungu thanked Mr Nyusi for the goodwill and co-operation by allowing the Kapowership to dock at the port of Nacala, which is considered as a strategic port, closer to Zambia running around 1,800 kilometres to Lusaka.
Mr Lungu also commended Zesco and the state-owned Mozambican electricity supply company, EDM, for the strategic partnership that has yielded desired results.
"I wish to express my gratitude for the timely response to our request to facilitate for the supply of emergency power to our country. This initiative will make available 100MW to Zambia. My government has spared no effort to ensure that our people and the economy, as a whole, are not adversely affected by this energy deficit," said President Lungu.
He said the memorandum of understanding (MoU) which has been signed with Mozambique for the construction of a 1200 megawatt coal-fired power plant station in Mozambique should serve as a stepping stone for greater collaboration.
Mr Lungu added that this should be anchored on principles of partnership under the protocols of the African Union and the Southern African Development Community, among others.
Ministers of Energy for Zambia and Mozambique, Dora Siliya and Pedro Couto, respectively, echoed their appreciation of the significant levels of commitment between the two countries, saying they signify deepened ties between the neighbouring countries.