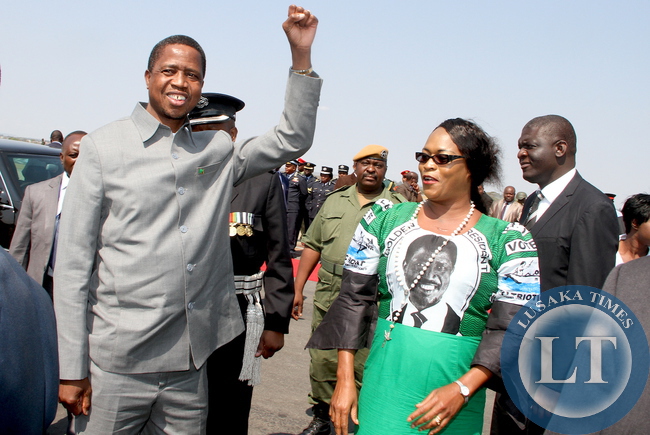 PATRIOTIC Front (PF) deputy secretary-general Mumbi Phiri has appealed to the public not to believe individuals going about constituencies claiming to have been endorsed by President Lungu.
Speaking in an interview with the Sunday Mail yesterday, Mrs Phiri said President Lungu made it clear while in Mpika recently that he has not endorsed anyone.
"The President has made it very clear; yes some people are going round in constituencies. Some women are claiming they will be adopted because they are women and some men are lying that they have been endorsed by the President," she said.
And Mrs Phiri says the response in the adoption process has been overwhelming.
"I can confirm that for instance in a constituency like Munali, we have 15 aspiring candidates and in all the constituencies we do not have less than five candidates at the member of Parliament level. It is amazing that even in the provinces, which may not be our strongholds like Southern Province, we have more than three candidates per constituency," she said.
Mrs Phiri said the response in the adoption process from the women and youths is impressive.
"We have seen a lot of new faces, new names that have come up through the applications and I hope and pray that more women will come so that they can participate in this process," she said.
Mrs Phiri said the adoption process will be as transparent as possible and the people who are going to push up the candidates are the people at grassroots.
"Remember it is not about names, if you are a sitting member of Parliament, it is about your performance and if you have performed well, you have no worries because, of course, the people will speak for you," she said.
And commenting on the Chongwe Constituency elections, Mrs Phiri said the on-going Chongwe Constituency elections have been transparent.
"The last Chongwe Constituency elections were nullified. As a secretariat, our presence was needed there. So we have the province, we have the district and we have the observers and the conductors of the elections from the elections chairperson Honourable Jean Kapata. So far, they are going on well, some people have gone unopposed and we are waiting for the final results," she said.