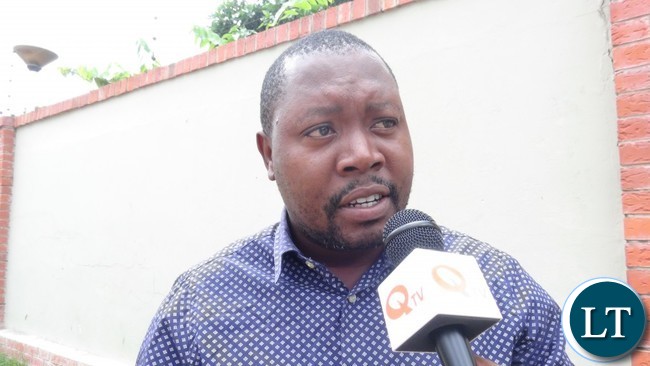 The Young African Leaders Initiative (YALI)has called on Zambians to open their eyes and not vote for politicians he described as "monkeys" who jump from one political branch to another.
Speaking in an interview YALI President Andrew Ntewewe said politicians are living citizens in despair as all they are concerned with is themselves as opposed to serving the people who elect them to office.
He said his organization would like to call on the public to open their eyes and ensure the country is rid of such kind of politicians if the nation is to see a change of behavior and improve service delivery from politicians.
"That sort of kills the entire essence of a properly functioning Democratic system of government because a properly functioning system of government people are going to stand by their political party because they want to send their way of thinking to their party but they are joining other political parties because they are motivated by getting a salary, they are motivated by being driven in a big 4?4, they are motivated by having fuel for free that is why they are busy jumping up and down, you know they are behaving purely like monkeys.
"When a monkey is in a tree, it will jump from one branch to another when ever it sees that the fruits may not be adequate so that they can also eat from the next branch because most of these politicians we are hearing defecting from one party to another you will notice that unfortunately that these are characters who have been moving over the years. They have been in UNIP when they saw that UNIP was losing they moved to MMD, when PF came they jumped to PF and now they are also trying to jostle for political positions in UPND.
"It lives much to be desired because you can not bring monkey types of politics in the democratic system of government no, we want politicians that are real, politicians that are motivated in ensuring that service delivery people is improved, we want politicians who are going to think of the best ways of improving the lives and livelihood of the poor Zambians and not politicians who will only think about themselves, " he said.
He expressed disappointment that politicians are being moved by personal interests and not service to the people.
"As Young African Leaders Initiative we are very disappointed that our politicians are moved more by personal interests, they are moved by personal preservations rather than matters that affect the nation, matters that affect the poor, more often you are going to hear these individuals who have resigned as deputy Ministers say I want to feel how it is like to be in poverty when in actual sense these same people have been Deputy Ministers for four or five years and all of a sadden they are more concerned with the poor than the 4 or 5 years they have been Ministers.
"It is very disappointing in the sense that politicians must have a bit of decora and their decisions must be based on political ideology, they must be based on policies, they must be based on how things can be done in a more proficient manner but is very clear that they are not looking at that. All they are looking at is how are my chances of winning, what are my chances of being in good books with the next government which is pathetic because it driven by greed, it is driven by personal interest," he said.
[Read 43 times, 1 reads today]