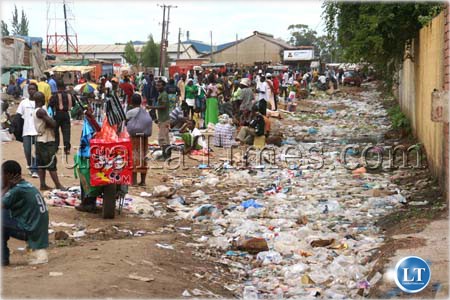 TRADERS at Lusaka's Soweto Market have defied Government's directive to stop selling fresh foodstuffs especially meat, offals and fish in unhealthy places.
A check by Sunday Times found various fresh food stuffs especially meat, fish and pieces of chicken being sold to members of the public in filthy conditions without considering the cholera outbreak in the city.
Zambia has recorded more than 200 cholera cases in peri-urban areas like Kanyama, Bauleni, Chilenje and George townships.
This reporter was welcomed by green flies and a stench from the food which was not being bought in view of the cholera outbreak.
Soweto Market committee chairperson, Isaac Simfukwe said the committee had tried to sensitise fellow marketeers but to no avail since many have argued that the council was collecting daily fees from them.
"I have tried in my own capacity as market committee chairperson to sensitise my fellow traders on the outbreak of cholera, but they have resisted and politicised the issue," said Mr Simfukwe.
Some marketeers talked to said they had no option apart from doing their usual business since it was the only source of income.
"If authorities decide to close our open markets, then our business will be suspended until cholera is contained which might take a long time," a resident said.