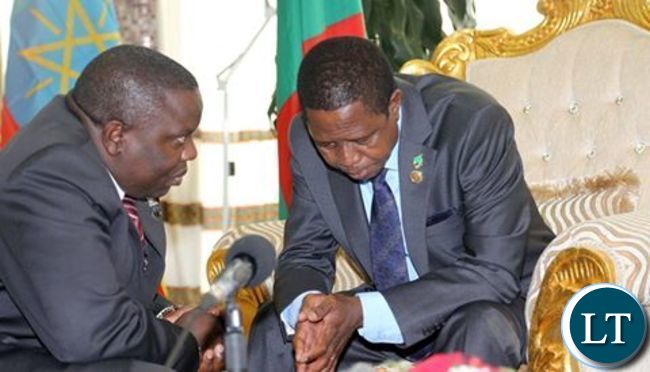 President Edgar Lungu today joined thousands of people that attended the funeral service of Brig Gen Cyprian Muchopa.
Gen Muchopa, who until his death, on March 23, served in the Zambia Army.
President Lungu said he was attending the funeral service as a friend of the departed as they have known each other for a long time.
He said Gen Muchopa was his long-time friend and neighbour, hence he could not afford to miss his funeral service.
Speaking in an interview after the funeral service at St Ignatius Catholic Parish in Lusaka today, President Lungu said all is set for the interparty dialogue scheduled for March 29, 2016.
President Lungu has called on his party cadres not to attend the gathering as it is strictly for party leaders and has since urged other political parties to do the same.
He said it is important that political cadres observe the hierarchy of party structures and stay away from the meeting.
According to Winfield Kunda, Communication Director for the Catholic Media Services, Zambia's Episcopal Conference plans to meet with all political parties and their Presidential candidates in a move to help curb politically motivated violence before the August 11general elections.
Zambians have expressed concern about clashes between supporters of political parties as the groups get ready to begin official campaigns for the elections.
Local media organisations have often reported incidents of inter-party clashes often between the governing Patriotic Front (PF) and opposition parties including the United Party for National Development (UPND) and the Movement for Multi-party Democracy (MMD).
Incumbent President, Edgar Lungu, and main opposition leaders, Hakainde Hichilema from the UPND and Nevers Mumba from the MMD, have agreed to be part of the meeting with the Roman Catholic bishops.
In an Episcopal letter early this year about the state of the nation, the Catholic bishops urged the political party leaders to tone down their rhetoric before the elections.
The bishops urged the politicians to ensure their supporters do not engage in violence.
And Saint Ignatius Catholic Parish Priest, Charles Chilinda, is positive that the March 29 dialogue meeting called by the Catholic Bishops for political party leaders will yield positive results in uniting the country.
And Fr Chilinda says political cadres should not be allowed to be above the law and create anarchy among Zambians.