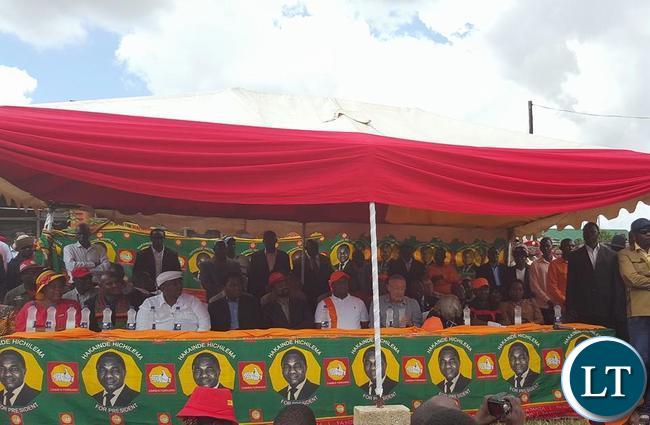 By Paul Mongo PF central Committee Member
We have noted with keen interest the defection of Dr Guy Scott and Mr Miles Sampa to the UPND and we wish to state that no one will stand in their enjoyment of freedom of expression and association. In fact, their departure is good riddance for a party which is in the cleansing process with a view to remaining with genuine PF believers.
However, I have difficulties keeping quiet on the many unfounded claims against the party they claim to have formed with late President Michael Chilufya Sata.
I will firstly address Mr Hichilema's claims that President Lungu has failed to unite the country and address the economic slow-down which he claims has made the country less attractive to investment.
As a party, we are discouraged that a man in the name of Mr Hichilema should claim to be well schooled in economics but take the lead in misleading Zambians purely to achieve well calculated political machinations sorely designed to win him votes in August this year.
Mr Hichilema aught to know that the world is experiencing the economic slow-down and every country has been affected. Zambia, as a country, does not enjoy economic independence from the rest of the world arising from the growth of economic integration which interconnects and exposes every economic life of our country to the outside pressure. However, it must be noted that efforts to address these challenges by the current government led by President Edgar Chagwa Lungu cannot change things within a short space of time.
I am worried that Mr Hichilema, despite having such an understanding of issues chooses to select words so that he can isolate Zambians from their government to soothe his hunger for power. This deliberate distortion of information is a political crime aimed at seeking presidential office using deceit.
As such, we take strong exception to the accusations that President Lungu is responsible for the underperforming world economic developments that have affected Zambians. We are not very disappointed as PF because we did expect any level of honesty from Mr Hichilema who has centered his political life on rampant lies motivated by selfish hunger for presidency.
We are calling on Zambians to ignore Mr Hichilema's call for change of leadership based on his lies. I desire to advise that Mr Hichilema will change nothing in this country even if he became president. Zambians must take pleasure in seeing that the man is taking advantage of the economic slow-down to cheat people but we believe that this level of politics is very mischievous and draconian to say the least.
His language bears some undertones of a man bent on taking advantage of weak processes like he did during the privatization of the mines sorely to wield financial benefits without regard for the poor.
Mr Hichilema was also quoted as saying that President Lungu would lose this year's elections and be sent back where he came from.
This is gross disrespect for the Head of State who is doing everything to unite the country and change its fortunes under difficult conditions. I wish to inform Mr Hichilema that President Lungu is going nowhere and would win the elections with a resounding victory without a rerun. The Zambian voters have witnessed large volumes of infrastructure developments and youth empowerment programmes which are maturing slowly and will not be cheated into voting out a performing government.
Zambians are being warned against auctioning this country to 'billionaires' because they do not have genuine interest of the country but are merely driven by financial interests to propel them into the ladder of the next generation world tycoons.
I also took note of the cheap insinuations by Dr Scott and Mr Sampa when they defected. I must admit that I do not have any right to condemn them for defecting but will certainly not let them cheat and hallucinate without checking them.
Firstly, I find it extremely cheap to learn that the only reason Dr Scott resigned from PF is that PF has been joined by Dr Michael Kaingu who tore Mr Sata's speech in parliament. I also find it strange that his resignation was influenced by Hon Dora Siliya and former President Rupiah Banda who have rendered support to PF. If indeed Dr Scott believed in the ideals of PF and cared for the party, he would have supported the stretches of unity that President Lungu is promoting in the country by working with leaders of other parties.
I find it strange that Dr Scott has left PF because he did not want new members. Politics is about numbers, change and transformation which Dr Scott ought to know.
Dr Scott must admit that he could not just fit into the progressive leadership of President Lungu that is based on promoting unity as opposed to drawing lines of division amongst the political players. PF may have fought the MMD in government but that is part of political processes but President Lungu realizes that unity is key after forming government. That is what the President is doing.
And Mr Sampa claimed that there is tribalism in PF. That is really laughable indeed and shows that the man had no issues to raise against PF. As the ruling party, we have demonstrated that PF is truly national in composition, performance and reach. It is hard for a genuine leader to make a comparison on which party is more tribal between PF and UPND.
Lastly, Mr Sampa's statement on the closure of CBU and the University of Zambia is merely empty politics since he is aware that the process towards reopening the two universities has already been made public. The universities will reopen as planned depending on how the managements will respond on the measures announced by the Minister of Higher Education. There is no responsible government which will keep the institutions open even when people and property are being harmed as a result of riots.
So in my final analysis, I want to remind Guy Scott that Hichilema referred to him as the last stupid colonial white man. It should be in the interest of Dr Scott to be reminded that Mr Hichilema described him as Muzungu opusa meaning stupid whiteman while calling him Guy Scotchikala (meaning ox-drawn machine).
Further, Mr Hichilema is on record as having referred to Rainbow Party leader Winter Kabimba as 'Kamimba' while former Commerce Minister Bob Sichinga was called a dullest accountant who does not know how to make money; he cannot survive without being in government.
We are surprised that the same men can today choose to describe Mr Hichilema as hope for Zambia with such bad language. It is clear to us a new page in Zambian politics has been opened where Mr Hichilema's fools are now following him and he must be celebrating for a good reason.
Let me state here that PF will not stand on the way of the few misguided politicians such as Miles Sampa and Dr Scott who have decided to change camps purely for selfish reasons but it must be noted that we will not sit idle and watch them promote these mechanized lies to our people. Zambians must watch closely who is genuine and who is not as they make decisions on who to vote for in the August 11, 2016 presidential and general elections.
Paul Moonga
PF Member of Central Committee