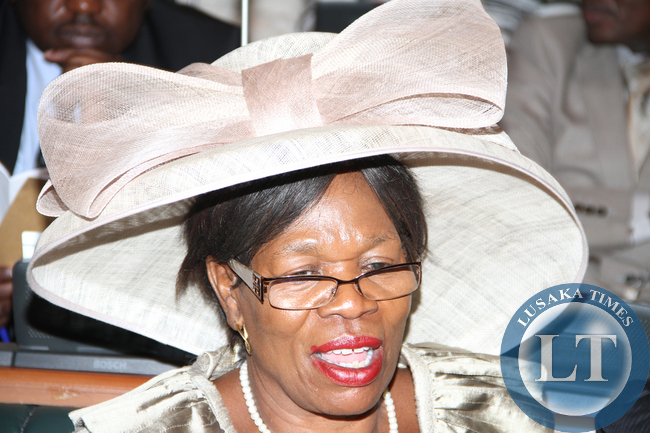 The Ministry of Gender is working on a stringent law that will ensure that all men take responsibility of their wives and children as a way of bring a sense of responsibility in society.
Gender minister Professor Nkandu Luo said the new law, which she will ensure is passed before parliament is dissolved, will also deal with men who are married but continue fathering children outside wedlock and neglect to take responsibility.
Prof Luo said that it was disheartening that in most cases when divorce occurs it is not only the women that suffer but the children also endure and they end up not going to school despite them being intelligent.
She was speaking in Nkeyema district in Western Province yesterday during the handover of equipment under the Agricultural Development and Value Chain Enhancement (ADVANCE) project which was also witnessed by regional permanent secretary Mwangala Liomba, area district commissioner Albertina Mwanamwalye and other government officials.
Prof Luo, who is also the Munali lawmaker, said that the tractor, plough and ripper which have been allocated to Nkeyema Cooperative Society in chief Kahare's area is a government initiative aimed at decentralizing to the lowest level unit.
She said that though the equipment has been handed over at a time when the rainy season is coming to an end, agriculture should not be only when there are rains as there are many wetlands in Nkeyema district that can be harnessed for the purpose.
Prof Luo said that the farming equipment is being given to chiefdoms and not districts and it will be under the supervision of chiefs who should ensure that whichever group uses it takes responsibility unlike taking it as government property.
She said that the Ministry of Gender will work closely with other line ministries in a bid to achieve high productivity and scale down poverty among the poor who are the majority of voters at about 80 per cent as they are the ones that ushered the PF into government.
Prof Luo said her ministry will work with the Ministry of Agriculture to ensure that District Agricultural Coordinators oversee agricultural activities in the project areas while the Ministry of Livestock and Fisheries will supervise the correct way of looking after livestock and fisheries as alternative forming modes.
She said the Ministry of Commerce, Trade and Industry will on the other hand help to identify areas of high production and it will also help in setting up processing activities in the chiefdoms so as to add value to their produce.
Prof Luo said that government has resolved as a policy to improve the lives of the poor who did not have the capacity to access resources meant for poverty reduction because they could write project proposals.
Prof Luo said that government has redesigned the empowerment programmes in the Ministry of Gender because it has realized that women were unable to pay back loans because they were not empowered with knowledge.
And speaking at the same function, Western Province Permanent Secretary Mwangala Liomba said that any misuse of equipment under the ADVANCE project will be disappointing as it will retard development.
Mr Liomba said that he was hopeful that another set of agricultural equipment will soon be delivered to the province as Prof Luo is known to have a heart for the people of that region.