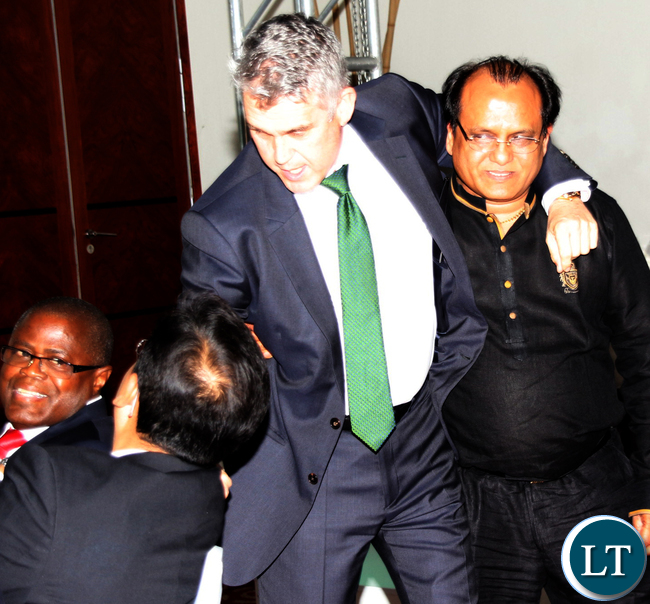 Freelance Photo Journalist was attacked at a Kagem Mining Dinner event attended by Minister of Mines and Water Development Christopher Yaluma, Deputy Minister of Youth Development and Sport Ronald Chitotela and some Zambia National Olympic Committee Executive Committee members on Saturday evening at Pamodzi Hotel.
According to eyewitness, the events started when Kagem Chief Executive Officer Ian Harebottle rushed to the stage to remove a guest of Asian Origin who had taken to the stage and started using a microphone. The Kagem CEO, grabbed the microphone from the man and led him out of the Mopani room.
It was at this stage that , Jean Mandela, who was covering the event, followed the two men outside where a tussle between the two continued since scores of guests of asian origins were walking out the same room. Kagem CEO, Ian, upon realising that the Photo Journalist was outside where the tussle was taking place, jumped on the journalists and tried to grab the camera, but only managed to remove the lens off it.
When the Kagem CEO failed grab the camera off the Photo Journalist, he shouted instructions to the door bouncers to grab the camera from Mr Jean Mandela. The more than 4 door bouncers descended on Jean Mandela, managed to get the camera that was hooked on his right arm. At this point many guests started coming out of the Mopani room to see what was happening outside and surrounded the Kagem CEO and his Asian Guest.
Later, Jean Mandela was seen trying to make a call, but a certain man in a grey suit wearing spectacles arrived, grabbed him, twisted his arm , they tussled for some minutes and he managed to get his phone; and, when Mr Mandela tried to follow him to ask for his phone back, the man smashed Mr Mandela's phone against the tarmac just outside Mopani room entrance facing the car park, damaging the it in the process. The man was later identified as Nyirenda (the son of William Nyirenda, the Kagem board chairperson)".
Later on,a land cruise with some police officers drove in and one police officer came out but it was not clear what they came to do on the scene.