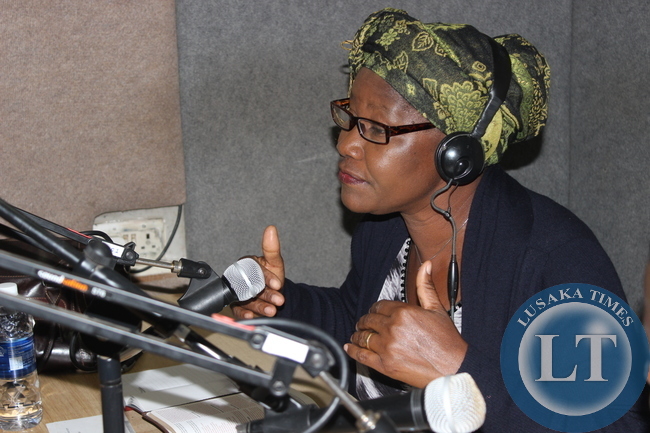 FDD leader Edith Nawakwi has added her voice to the condemnation of xenophobic attacks perpetrated on Rwandan Nationals in Lusaka.
Speaking in an interview Ms Nawakwi said the looting and damaging of property is senseless and serious criminal act that deserves punishment.
She said the acts do not depict the true spirit of the people of Zambia as Zambians are naturally generous and hospitable people who do not want a bunch of misguided and unruly people to dent their reputation.
"We condemn the Xenophobic attacks perpetrated against the Rwandan nationals. The looting and damaging of property is senseless and a serious criminal act that deserves punishment. These riots and violent acts do not depict the true spirit of who we are as a people: Zambians are naturally generous and hospitable people and we do not want a bunch of misguided and unruly people to dirten our good national image out of their riotous conduct.
"We urge the police to work closely with local community leaders to restrain thugs who are taking advantage of ritual murders to loot, steal and damage innocent people's property. These xenophobic attacks if not curtailed will damage our country's international reputation and scare investors from investing in Zambia," she said.
She called on the Police and other law enforcement agencies to quickly bring to book the ritual killers saying depression and poverty have contributed to the unprecedented events of the last 24 hours.
"The police and all other law enforcement agencies should note that our people's anxiety over these suspected ritual killing is running out of hand. Therefore, there is need for our men and women in uniform to up their game and ensure that these killers are captured and justice is meted on them. In a country of hungry people, anger is always at its pick and if nothing is done, then what seems to be sporadic attacks and skirmishes can soon degenerate into full blown anarchy. People are hungry and angry. They are depressed and are dying under the yoke of poverty and destitution and therefore tempers are really high. This is a very sensitive matter that poses a serious national security threat.
"We want to plead with all well meaning citizens to be vigil and refuse to be used in attacking others. Let us guard this peace very jealously. We only have one Zambia. Let us all co-operative with the police and help them maintain law and order," she said.
And SACCORD has called on Zambians not to vent their frustrations on the lack of progress in arresting ritual killer on innocent individuals regardless of their nationality.
Commenting the spat of xenophobic attacks which were experienced in Lusaka yesterday, SACCORD Executive Director Boniface Cheembe said it is understandable that people are frustrated with the lack of progress regarding the ritual killings that has hit the capital city but that attacking innocent people will not resolve the problem.
Mr Cheembe called for restraint on the part of the public saying instead of causing more problems for the law enforcers the public should be working hand in hand so as to helping them find and arrest the perpetrators of the heinous crimes.
He said the public should ensure that their communities are safe and that it will not happen by destroying and vandalising both private and public property.
He said destroying private and public property will not stop the ritual killings but has the potential of escalating the crime challenges in Compounds adding that destroying property will only end up destroying public good such as Police Stations which are supposed to help in deterring would be offenders.
He further added that Zambians should not look at the whole issue as that of being Zambian against foreigner as the country will only end up losing its well deserved name of being a peace loving country in the region.
He said the riots have the potential of earning the country the undeserved name of being one of the countries practicing xenophobia something he said would put a dent on the country's international standing.