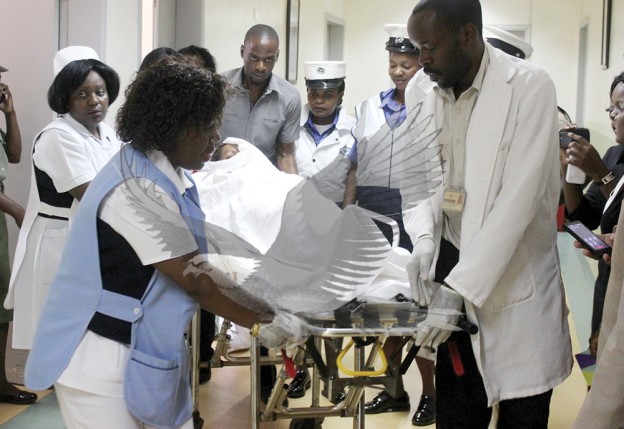 THE police officer Marjorie Moyo who was run over by a bus in February has thanked Government for her promotion as sergeant from the rank of constable.
Minister of Home Affairs Davis Mwila announced Ms Moyo's promotion during a radio programme on the Copperbelt.
Ms. Marjorie Moyo, the police woman run over by a motorist in February this year, says she would have loved to celebrate her promotion with dance to show how appreciative she was to the Government.
Ms. Moyo, who could not believe the news of her promotion, said this afternoon that she was profoundly grateful to Government for continuing to care for her and the family in their troubled times.
"Is it true. I have just been getting stories and I hope it's true. First it was my aunt who called me and then my brother also told me. Please tell me," an excited Ms. Moyo pleaded.
After being told that Home Affairs Minister, Mr. Davies Mwila announced her promotion during a radio programme on the Copperbelt, Ms. Moyo quipped: "Iyeee!. I will start dancing. I wish I could dance just to show how thankful I am to this government."
Ms. Moyo is now Sergeant from her previous rank of Constable.
She said Government has been on her side from the time she met her calamity. "Look. They are here helping me. I don't even know who is paying for my treatment and now they want to promote me. I am so happy," said a jovial Ms. Moyo.
She said doctors had told her that she would undergo skin grafting in the course of next week.
"I am very fine and I think only one thing, which is skin grafting, as the doctors told me, is remaining."
Ms. Moyo was flown to South Africa's Milpark Hospital on 2nd March, 2016 for specialist treatment after she was run over by a driver at a road checkpoint on Great East Road in Lusaka on 27th February, 2016.