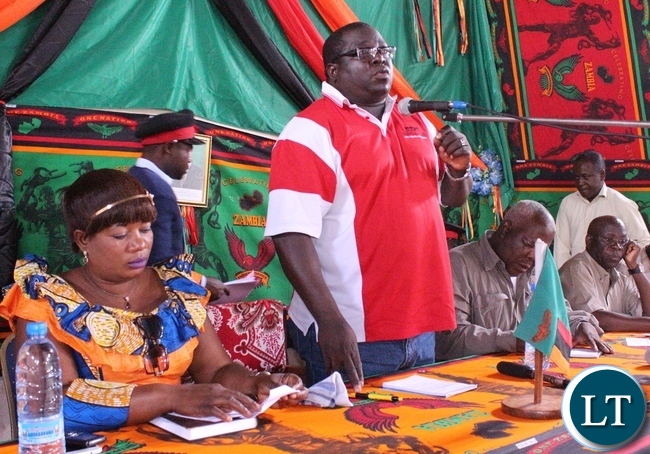 UNITED Party for National Development (UPND) members will collapse of high blood pressure when the Patriotic Front (PF) forms government after the August 11 general elections, Chief Government spokesperson Chishimba Kambwili has said.
Dr. Kambwili said he was confident that the PF would be re-elected into power after the August 11 elections and was not shaken by some of its members defecting to UPND.
He told the Daily Nation in an interview yesterday that UPND was only popular on social media such as Facebook and not among the Zambian people.
"I feel sorry for the UPND because some of them will collapse with BP. I have no doubt or fear that we are going to lose these elections; we will beat UPND in the first round and they will be shocked. "Their popularity is just on Facebook, but our popularity is with the people of Zambia. That's the difference," Dr. Kambwili said.
He said the Zambian people had confidence in the ruling party because of the many developmental projects that it had initiated.
Dr. Kambwili noted that the PF government had achieved a lot within a short period of time.
"Our record is there for everybody to see and the people have confidence in us, not even past governments had achieved what we have done in a short period.
''If the people of Zambia are going to change government, then I will be left with no option but to think that Zambian politics is not about development but about evil," he said.
Dr. Kambwili also revealed that Government was aware of UPND's trick of bribing people by buying them air time to insult and condemn government on radio stations. "The UPND gives people money, they take advantage of all radio programmes where there are live phone-in programmes and they give them money to buy talk time to call radio stations. We know that when there is a phone-in programme, they give UPND cadres to call so that they insult Government," he said.
"Those few people that always talk on radio to condemn Government are not the voters. The voters are people of Zambia who have confidence in us," Dr. Kambwili said.
[Read 32 times, 1 reads today]