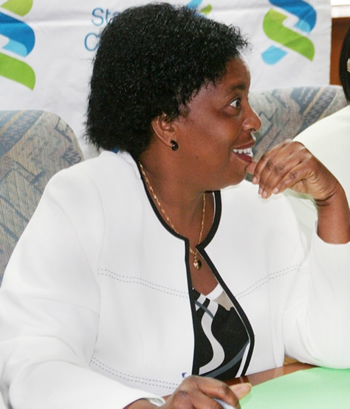 PF Chairperson for Labour and Social Security Joyce Nonde Simukoko has described as unprincipled the politicians who have continued to move from one party to another.
Ms Simukoko said those defecting from the PF are the people who harboured ambitions of becoming President after the death of President Sata but failed and are now frustrated hence their moving to the UPND.
Blow is a full statement issued to the media.
DEFECTIONS OF UNPRINCIPLED MIGRANT POLITICIANS
Whenever a new election cycle approaches it has become fashionable for Zambians to be entertained to "migration or nomadic politics" when unprincipled politicians jump from one political party to another in highly publicized staged defections. During this silly season of unprincipled politics, these opportunistic politicians who have lost a sense of purpose in their respective parties, always try to figure out in which party they can push their selfish political agenda at the expense of serving loyal members of that party.
Opportunistic staged defections of some of our unprincipled leaders to the opposition are simply frustrated people who had harboured presidential ambitions in PF following the tragic death of President Michael Sata but miserably lost to President Lungu. The President, despite their negative attitude towards him still honoured by giving them positions they did not deserve. \they will soon regret their ingratitude and colossal political mistakes. Zambians of today are not that of yesterday, where politicians would cheat them that they used to be "sour grapes" in PF and now are "sweet oranges" in UPND. A traitor like Judas Iscariot will always be a traitor. We appeal to Zambians to ignore and stop supporting these selfish unprincipled "migrant or nomad politicians."
Late President Sata was a principled man. When he differed with MMD in 2001 he resigned on principle and did not take the easy route of jumping onto another existing party but instead single handedly formed the Patriotic Front and laboured to make it into a large political party. Principles cannot be reconciled and neither can they be sacrificed on the altar of expediency as the opportunistic defectors are doing. President Sata has left a legacy of hard work while these defectors will soon be consigned to the dustbin of history. We would like to have leaders who are original not those copycats who have ridden either on the back of their father, spouse, tribe or race. The late President Sata was original. He worked his way through to be President, just as President Lungu has done.
Defectors have not taken along the PF structures, and some of these defectors were merely nominated MPs with no constituency. That is why they are not political factors. We have seen those who defect ending up frustrated and sometimes even going back to the same political parties they had run away from – what a shame! And, as President Lungu stated already, we expect more such staged defections next week when Parliament is about to be dissolved. We therefore ask all outgoing MPs to seriously evaluate themselves with a clear conscience and judge for themselves whether they performed to the expectations of the people or failed them.
Zambians shall not be duped by leaders who have become rich overnight and cannot explain the origin of their ill-gotten riches. These unprincipled rich politicians are today regrouping in UPND to fight President Edgar Lungu, a God-chosen leader who came from very humble beginnings in Chawama township and not from among the rich elites. UPND is for the rich clique ("ba some-of-us"). Zambian voters know that if they elect them then the common people will be cast out when they least expect it. They are well known capitalists who believe in the "weak must die" principle. are alive to the fact that
President Sata knew that PF was not for sale to the highest bidders and political crooks, that is why he showed great confidence in President Lungu whom he entrusted with huge national responsibilities –Minister of Home Affairs, Minister of Justice, Minister of Defence, PF Secretary General and Acting President who presided over Zambia's 50th Jubilee independence celebrations when the late president was sick in London. The same way these political enemies who fought President Lungu failed when President Sata died is the same way they will be defeated again in the August 2016 elections.
MRS. JOYCE NONDE SIMUKOKO,
PATRIOTIC FRONT (PF) CHAIRPERSON FOR LABOUR AND SOCIAL SECURITY OF THE CENTRAL COMMITTEE
[Read 28 times, 1 reads today]