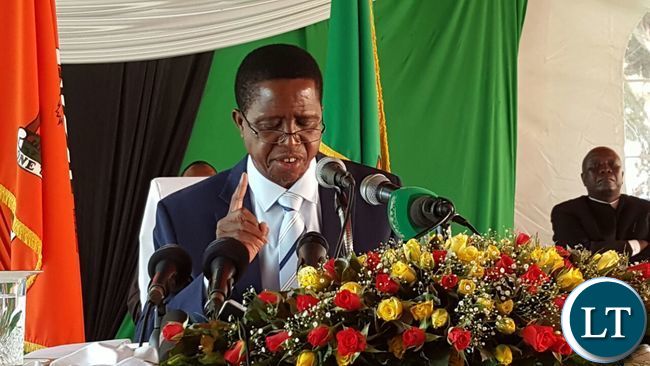 President Edgar Lungu has defended his comments about the outcome of the Ugandan elections which have caused controversy in that country.
Shortly after arriving at Entebbe International Airport in Uganda where he went to witness the inauguration of President Museveni's fifth consecutive term of office, President Lungu said that opposition parties that lost controversial elections in February must accept the will of the majority of Ugandans and move on.
"The people's will should always be reflected in an election and people should learn to accept results. That is the most important thing. That is the message I have for Africa, the Ugandans and Zambians. Let us accept the will of the people. There can only be one winner. After you win, you perform. So you allow your friend who has won to perform. When another election comes, you will have a go at it," President Lungu told Zambian Journalists in Kampala.
But the remarks have since been condemned by Ugandans on social media with some insulting President Lungu urging him not to interfere in domestic affairs of Uganda.
Answering questions during this afternoon's live press conference at State House, President Lungu said there is nothing wrong with his comments.
He said the Ugandan media was clever than him by contextualising his comments to portray as if he was ridiculing that country's opposition leader.
President Lungu said he has no apologies to make and that he does not regret.
He maintained that the will of the people should be allowed to prevail in elections of the continent.
And President Lungu has defended the constitutional that allows ministers to remain in office after parliament dissolved.
President Lungu said the ministers had retained their posts because the constitution allowed it. Critics argue the amendment should have been dumped when a related proposal to appoint ministers from outside parliament was shot down.
Meanwhile, President Lungu said he expected inflation to slow to single digits "within months".
He said diversification away from the copper sector, which has been laid low by depressed prices, meant economic growth was seen accelerating slightly to 3.7 percent in 2016 from 3.5 percent last year.
"This performance will largely be driven by agriculture, construction and tourism," President Lungu said.
On the agricultural front, Zambia has fared better than its neighbours amid a regional drought, with production of the staple maize crop forecast to rise to 2.87 million tonnes this year from 2.6 million tonnes last year.
But maize prices have still risen steeply in Zambia and Lungu said the government had been "advised" not to bring in price controls to make the staple more affordable. He did not specify who gave this advice.
And President Lungu has assured the nation that his administration will not abuse public resources during the campaign period.
He also explained that the presidential marketeers fund is funded by well-wishers within PF and that State House is not using any public funds.
President Lungu revealed that in future, the presidential marketeers fund may be placed under a ministry budget.
On the issue of the running mate, President Lungu said he is still focused on appointing a female as his running mate in the August elections.
He said he knows that he will appoint a female except that he still does not have a face and the face of the female politician who wants to be his running mate.