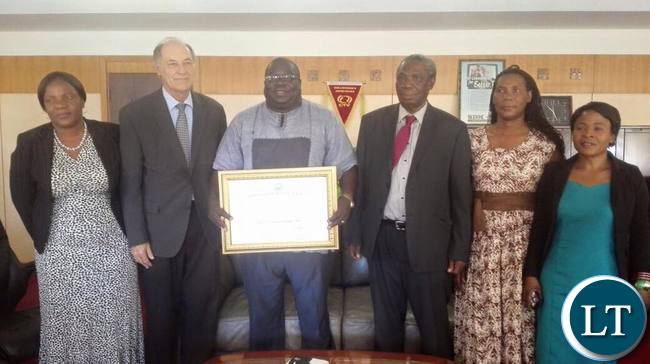 Information and Broadcasting Services Minister Chishimba Kambwili has been named as an Ambassador of Peace by the Universal Peace Federation.
This is in recognition of Dr Kambwili's services to the community in Roan Constituency in Luanshya and the people of Zambia at large.
Speaking at the honouring ceremony this morning, Dr Kambwili said he is greatly humbled by the award.
Dr Kambwili said the award is a source of immense joy and encouragement to enable him work even harder in serving the people of Zambia.
He said this is the second time that he has been honoured this year having received an honorary Doctorate Degree as one of the most influential politicians of recent time.
He said he is a firm believer in hard work and that he has thanked God for giving him the opportunity to serve the people in Roan constituency and the country.
Dr Kambwili says he considers it an honour to help uplift the welfare of the people around him.
The Universal Peace Federation acknowledges as Ambassadors of Peace, those individuals whose lives exemplify the idea of living for the sake of others, and who dedicate themselves to practice which promote universal moral values, strong family life, inter-religious cooperation, international harmony, renewal of the United Nations, a responsible public media, and the establishment of a culture of peace.
The Ambassadors of Peace also transcend racial, national and religious barriers and contribute to the fulfilment of hope for all ages, unified world of peace wherein the spiritual and material dimensions of life are harmonised.