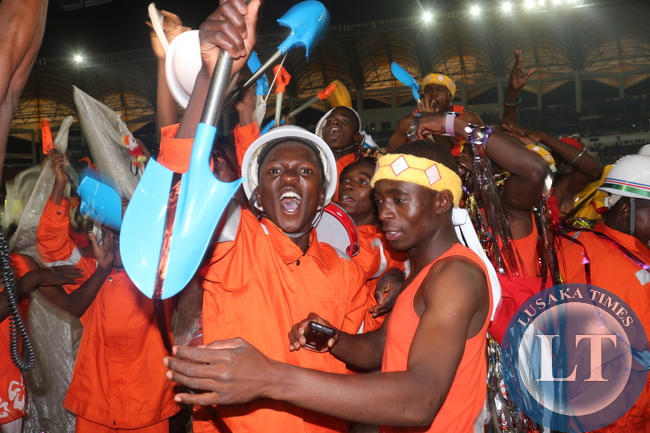 The ruling PF says it is not preoccupied with filling up the 50,000 capacity Heroes Stadium in Lusaka during its national campaign launch set for this Saturday.
PF Deputy Spokesman Frank Bwalya said the party is only interested in filling up the hearts of minds of Zambians with love, peace and development.
He said the party will not be bothered even if it fails to fill up the gigantic stadium as long as its message of peace and development resonates with the Zambian people.
The PF has been running campaign messages urging its members to attend the event in an ambitious attempt to fill up the stadium.
Some political observers have however cautioned the party describing the move as been over ambitious saying it will be embarrassing for the ruling party with there will be empty stands in the stadium.
"For us, our main preoccupation is service to the people. We are not concerned about filling up the stadium, we want to send a message of love, peace and development to our people.
Moreover, our candidate, President Lungu is already filled with love, humility and a pro-poor approach, that is all that matters," Mr Bwalya said during a live programme on Radio Phoenix.
He further revealed that the party will also at the same event unveil a new elections manifesto for the August elections.
Mr Bwalya hinted that the new PF manifesto will not completely depart from the current one adding that it is merely be a continuation of the 2011 manifesto.
"Our new manifesto will respond to the new challenges that the country is facing but it will not depart from what the PF is known for that is the massive construction of roads and other infrastructure. It will be another pro-poor document which speaks to the lives of majority poor Zambians," he said.
He further revealed that the PF is also going to launch a new campaign Chitenge at the event which has President Lungu's images.
"Unlike in January 2015, this time around, we are more than prepared, we have printed a new Chitenge for our President for these campaigns with his smiling images on them and we will be launching this at Heroes. We are set to have the best campaign event ever. We have 25 artistes performing, some just for free because of their love for President Lungu. Gates open at 10 Hours," he said.
Meanwhile, tHE Patriotic Front (PF) will on Saturday unveil its candidates for the August 11 general elections during a mega rally at Lusaka's National Heroes Stadium, secretary general Davies Chama has said.
Mr Chama said yesterday that President Lungu is expected to announce the names of the members the PF has adopted to be its parliamentary, mayoral and local government candidates at a mammoth rally