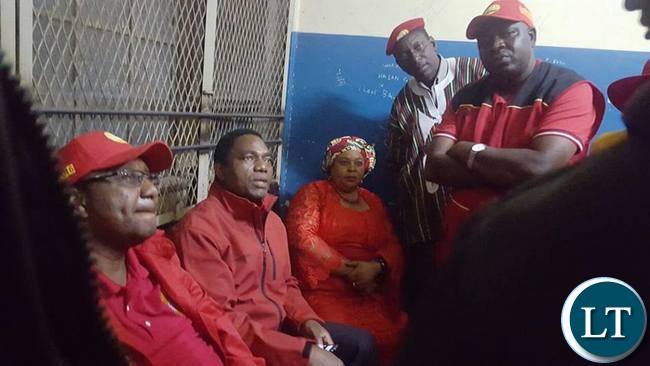 UPND leader Hakainde Hichilema has vowed that no amount of intimidation will prevent Zambians from putting in place quality leadership in this August's elections.
Mr Hichilema said in the first week of campaigns, the UPND has faced obstacles from many sides, including most recently the arrest of its Vice-President Geoffrey Bwalya Mwamba.
"Yesterday we launched our campaign and the UPND 10 Point Plan in style at Kitwe's Freedom Park. We shared our vision for Zambia and called on our supporters to spread the message far and wide that although Zambians are facing many challenges, with their support on 11 August 2016 we will fix it," he said.
Mr Hichilema said it is natural that many UPND supporters are concerned that despite the rapid growth in popularity of the party and the massive support it is receiving across the country, the real challenge remains to ensure elections are free and fair.
"We want to reassure our supporters that the UPND has a plan to protect the vote. Remember we are the party of planning and we will not neglect this aspect of the campaign. We are busy engaging the ECZ and various stakeholders on the outstanding issues and will continue to do so throughout the campaign period," Mr Hichilema said.
"Nevertheless, the threat is real and we all need to stay alert for any suspicious activities. As such we are encouraging everyone to familiarise themselves with the various rules and guidelines. On this topic we recommend voters take advantage of available platforms to raise concerns such as that created by the Zambia Elections Information Centre, which has recently announced the launch of a free SMS platform for people to report what they see, when and where they see it on 2323."
He added, "If we inform ourselves and stay alert, then nothing can stop us. No amount of intimidation will stop Zambians from choosing quality leadership on 11 August 2016."
Patriotic Front says it is wrong and misleading for opposition UPND leader Hakainde Hichilema to suggest that the arrest of Mr Mwamba is a scheme to frustrate his party's campaigns.
PF Deputy Spokesperson Frank Bwalya says contrary to Mr Hichilema's assertions, Mr Mwamba has been arrested for allegedly committing an offence.
Mr Bwalya says politicians should not be under the illusion that they are free to commit offences during the campaign period.
He says the police are duty bound to arrest people committing offences regardless of the campaign period and their political affiliation.
Mr Bwalya was speaking to ZNBC news in Lusaka.
Mr Hichilema has been quoted in some sections of the media as suggesting that the arrest of Mr Mwamba is a ploy to frustrate the UPND campaigns ahead of the August 11, general election.
However,