UPND presidential running mate Geoffrey Mwamba has challenged the PF Government to go ahead and arrest him if they believe that he submitted forged academic papers to the Electoral Commission of Zambia.
And Mr Mwamba has revealed that he did not submit any academic papers from Zimbabwe but that all his academic documents were from the United Kingdom.
Mr Mwamba who is also UPND Vice President said the reported investigation going on between the Zimbabwe Examinations Authority and the Examinations Council of Zambia is a waste of time.
He has disclosed that the Advanced Diploma in Business and Finance he submitted to the Electoral Commission of Zambia was validated by ECZ Chairman Essau Chulu because it was authentic.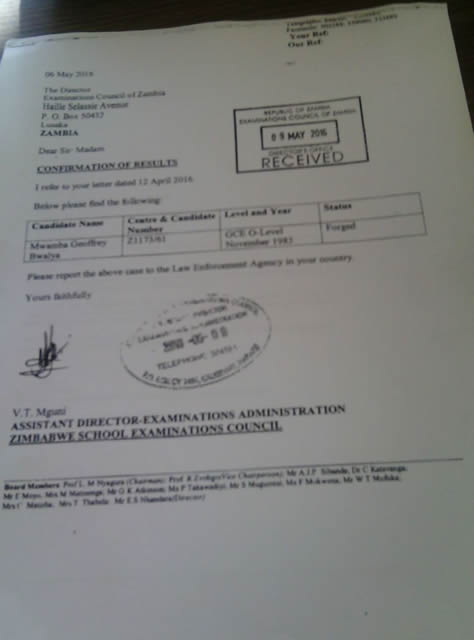 Mr Mwamba was speaking this morning when he featured on a special radio programme on Radio Phoenix alongside party leader Hakainde Hichilema and former Vice President Guy Scott.
"You see, I was very smart, I never presented any papers from Zimbabwe because I know the relationship between Mugabe and President Lungu. They would have gone to fidget with the papers so I only gave them the papers from the U.K," Mr Mwamba said.
He also disclosed that officials from the Zambian High Commission in the UK got in touch with the UK College to verify the information about his academic records and that they were provided with the information they requested for.
"I am very sure this is the information that they supplied to the Electoral Commission of Zambia and this is why Judge Essau Chulu had to accept them. I also got a letter from the Zambia Qualifications Authority which also authenticated my qualifications. So my nomination is very valid. What they are doing is mere political propaganda. In Bemba, we say Baloba ilya uma (they have fished a dry fish)."
Mr Mwamba wondered why his qualifications are the only ones drawing public interest when it is in public domain that even President Lungu's running mate Inonge Wina's credentials are questionable.
He also revealed that he is currently studying for a Degree with another UK university and that he will be graduating in the next few weeks.
The UPND presidential running mate has since challenged ECZ Chairman Essau Chulu to resign immediately if it is proven that he accepted and validated forged papers.
"Who is the Chairman of ECZ? Isn't it Judge Chulu? He should now resign if they are saying I presented forged papers."
"They are busy talking about GBM because they are jittery. They know that we are going to wallop them and they are now running scared," he said.
Mr Mwamba has since challenged the ECZ to publish the qualifications of all those that are vying for political offices from Presidential, MPS, Mayors to Councillors.
He said Zambians are now resolved to remove what he called the inept leadership of President Lungu.
"Zambians don't want to see this party continue in Government because we are all now suffering, prices of all commodities have escalated. President Lungu has increased his salary three times while he only gave civil servants a paltry 5 percent hike."
He added, "Edgar Lungu could not even afford to buy a suit in 2015 now he is using public resources to hire 10 helicopters and bring in Chitenges to cover the trees. This is exactly what happened in 2011. The PF didn't have anything but we beat the MMD."
And Mr Hichilema says focusing on Mr Mwamba's academic qualifications is a non-issue and that those peddling the issue are being malicious.
He said there are more pressing issues in this election which Zambians should be focusing on and not talking about Mr Mwamba's qualifications.
Mr Hichilema said the ruling of Justice Sichinga in the Grade 12 qualifications matter has rendered the issue closed.
"I think Judge Sichinga, if I am not mistaken ruled that any other qualifications beyond Grade 12 will suffice. In my case, I didn't even submit my Grade 12 certificate, I, instead, gave them my Degree certificate. Maybe they should be questioning my papers and not GBM's but I also got a letter from the Zambia Qualifications Authority authenticating my qualifications so the matter is now closed."