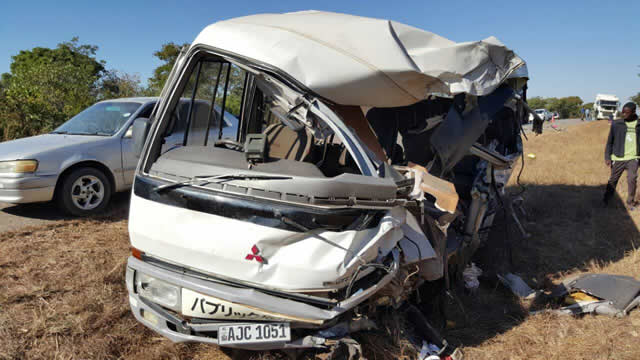 ONE of the Hillcrest National Technical Secondary School, who was evacuated and hospitalised at the Livingstone Central Hospital's Intensive Care Unit after the Choma road accident last week on Friday, has died.
This now brings the total number of pupils and one teacher who died from the accident to six.
Joseph Chiunda, 21, died in the early hours of Wednesday slightly after midnight.
Father to the deceased Gideon Chiunda described the death of his son as devastating.
Speaking in an interview at the funeral house in Zambezi Sawmills in Livingstone, Mr Chiunda said the death of his son had also shocking to the family.
Mr Chiunda, who is jobless, said his family had great hope that Joseph would redeem the family out of the many challenges and sufferings they were facing as a family being the first born.
"As u can see my heart is torn apart, am shocked and devastated that my son had to die very young. Being the first born, we hoped that Joseph was going to be the bread winner of the family and help me run the affairs of the family because am jobless and as a family we are struggling to meet our daily needs.
"I am not bitter with Hillcrest school over the death of my son because deep down in my heart I know that it was God's wish that my son had to die in such a manner, "Mr Chiunda said.
Livestock and Fisheries deputy Minister Lawrence Evans, who visited the funeral house in Zambezi Sawmills compound together with PF Livingstone aspiring parliamentary candidate Omar Munsanje and Caribbean Chicken Chief executive officer Kunda Silwenga, conveyed a message of condolences to the bereaved family on behalf of President Edgar Lungu.
Mr Evans, who is former Livingstone Member of Parliament, assured the family of Government's full support in meeting all the funeral expenses.
He said Government through its relevant wings was doing everything possible in making sure that the Zambian roads were safe for the public.
"It is sad that the nation has lost young and vibrant pupils that would have contributed to the growth of the nation and their communities.
"Our hearts are with the bereaved families, Government is making headways in making sure that our roads are safe for the travelling public. I am happy that the provincial Minister directed the Provincial Education Officer to stop pupils from traveling for school trips after 18:00 hours," he said.
[Read 162 times, 1 reads today]