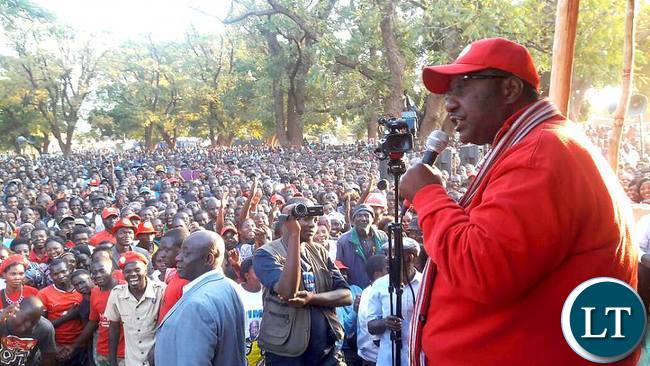 Opposition UPND Vice President and Presidential Running Mate Geoffrey Mwamba has continued with his campaigns in Luapula Province.
Mr. Mwamba who addressed two public Rallies at Chisaka area and Samfya Secondary School grounds in Samfya vowed that whatever the case he will traverse the Province by any possible transport available.
The United Party for National Development leader when addressing multitudes that gathered to listen to him said if elected in to power this August the UPND government will empower local to start up Fish Farming as compared to depending on seasonal and depleting fish in Lake Bangweulu.
He promised that people will be given loans to start-up businesses in order to sustain themselves unlike waiting and crying to the government.
Mr. Mwamba popularly GBM also promised Civil Servants that once elected, the UPND will improve their living standards especially for those working in rural parts of the country.
And UPND National Trustee Bernard accused Republican President of accruing lots of money in just few months he has been in office further wondering where President Edgar Lungu would have gotten such huge amounts.
Meanwhile, UPND Presidential Spokesperson Frank Tayali said the people of Zambia today are going through serious economic hardships due to voting for someone who had plainly told them that he had no vision for the country.
[Read 37 times, 1 reads today]