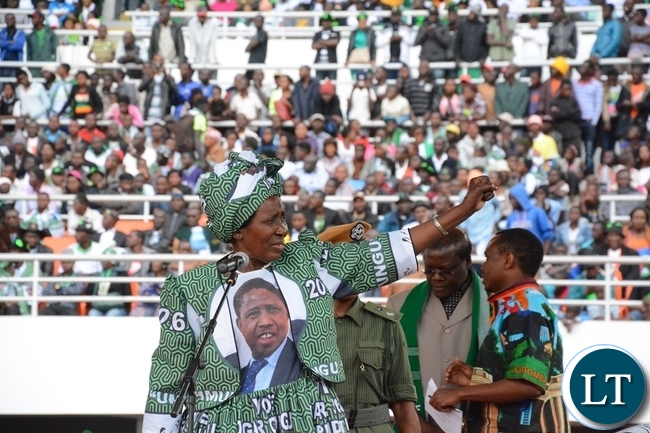 VICE-PRESIDENT Inonge Wina says the Government is aware that some people in the opposition are misrepresenting the contents of the Bill of Rights by insinuating that it promotes homosexuality.
Ms Wina, who was speaking when she held two separate rallies in Nkeyema and Kaoma districts, said that voting for the referendum would result in the enhancement of the Bill of Rights which would
consequently lead to improved service delivery in the country.
She urged the people of Western Province to vote 'yes' in the August 11, 2016 referendum as doing so would entail that Zambians will in future have enhanced access to education, health services, food, water and sanitation as well as other legal guarantees that provide respect for human dignity.
Ms Wina urged the people of Nkeyema and Kaoma districts to vote for President Edgar Lungu and the Patriotic Front (PF) so that the development projects the party had started could continue.
She said that under the PF Government Zambia had recorded unprecedented development strides and the country would only positively change if President Lungu was given another mandate to rule for another five-year term.
Ms Wina, who also took time to explain the new electoral process and referendum question, said that President Lungu had respected the people of Western Province by appointing one of their own to be his running mate.
She said that her appointment as vice-president and presidential running mate signified that President Lungu had respect and faith in the Zambian women and it proved to the girl-child that they equally had leadership potential.
Ms Wina, who also introduced some PF candidates in Nkeyema and Kaoma, challenged opposition leaders who claimed to be rich to show what they have done for the poor, saying that when she was in the opposition herself she managed to build two health facilities in her constituency.
And in Kaoma's Mangango constituency several people from the UPND and MMD defected to the ruling party saying that they appreciated the development efforts that were being spearheaded by the PF Government.
Ms Wina, who welcomed the defectors led by former Luampa UPND parliamentary aspirant Simon Nyundu and former Kapili ward MMD councillor Likwashi Likonge, urged them to woo more people from their former parties.
Earlier in Nkeyema District, Ms Wina unveiled a tractor, harrow and water pump worth K377, 000 which were bought by the area's local authority using tobacco levy paid to the council by Japan Tobacco International.