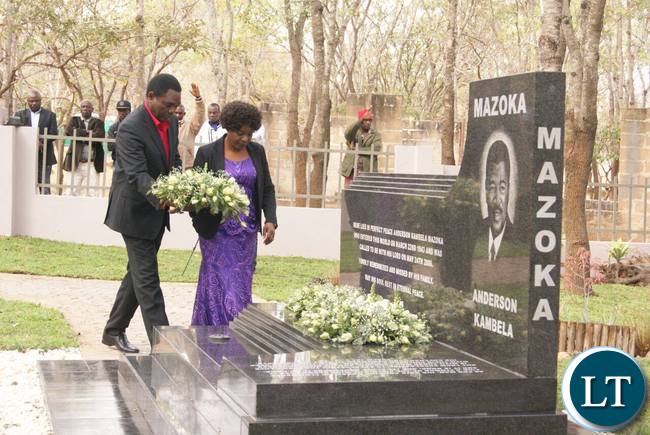 Accompanied by his wife Mutinta, UPND president Hakainde Hichilema went to lay wreaths at the tombstone of the founding President of UPND, the late Anderson Kambela Mazoka, at his Kumalende residence in Lusaka yesterday afternoon.This was after the memorial church service held at Cathedral of the Child Jesus.There were several senior party officials including party Vice-President Geoffrey Bwalya Mwamba in attendance.
UPND president Hakainde Hichilema decribed the late Mr.Mazoka as a humble, charismatic and hard-working man who showed what could be achieved with vision and planning.
'It has been 10 years since Anderson Kambela Mazoka passed; yet his words are still on our lips, his ideas continue to resonate and his legacy endures. This man was a true leader, not just in politics but across many walks of life.During his time among us I was often struck by his dedication and his drive. His readiness to take on a challenge, even if it would be far from easy but believing it the right thing to do, was inspirational,'Mr.Hichilema said
Mr.Hichilema reiterated calls for unity and peace within the party and across the country.