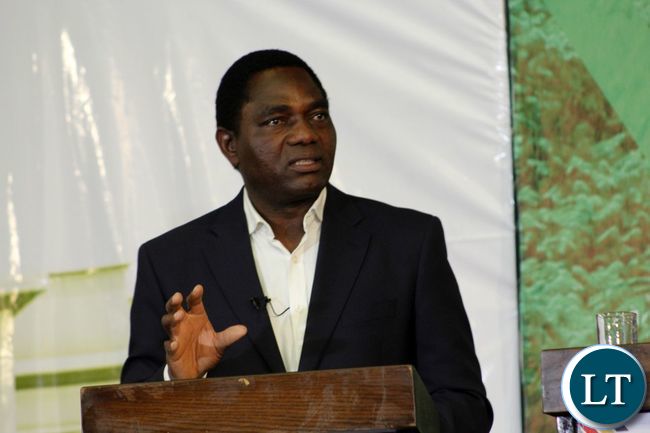 UPND President Hakainde Hichilema says President elect Edgar Lungu was willing to concede defeat on the Saturday following Thursday 11th August polls but that he was convinced by " a certain former President and some few people surrounding him not to do so because they would help him rig the elections ".
Speaking at a media briefing Friday afternoon Mr Hichilema said UPND won the elections pants down but that the PF stole the people's victory with the help of a former President and ECZ Chairperson Easu Chulu whom he said wanted a fellow tribes man to continue in State House.
He said the UPND will continue to fight for their victory saying more 1.8million voters voted for them and Edgar Lungu was willing to honorably concede defeat but that the ECZ through Essau Chulu, Priscilla Isaacs and one former President told him to hang on as they would fix the results for him which they apparently did.
He said his Party does not recognize Edgar Lungu as the President of Zambia further calling on citizens to fight for their victory.
He said as leaders they can only do so much and that citizens should not only stand by and watch their victory stolen but join the fight and redeem what is rightfully theirs.
He said UPND will continue to fight in the courts and will move to regional and international courts to protect the country but that citizens should now play their part.
Mr Hichilema described the Court process regarding the presidential petition as a circus of the century and a mockery of the judicial system of the country.
He said they are now not only politicians but Freedom Fighters as they are not only fighting for the democracy of the country but Freedom of citizens from the dictatorship of Edgar Lungu.
He said it is now time for citizens to pick up the fight and ensure that Edgar Lungu is not sworn in Tuesday next week.
And his Vice President for Politics Dr Cannius Banda said he should not be called a wolf in sheep's clothing because he is one of the most hardworking members of the Party.
Speaking at a media briefing at Chainama hotel on Friday, Dr Banda said he should not be insulted because he has not committed any crime against the Party as purported by some media outlet which has insinuated that he is about to defect to PF.
"Don't call me a wolf because I have not done anything wrong. How can I be a wolf when I work so hard for this party. Those people are liars, how can they call me a wolf when I am here today. They are lying that I am defecting to the PF that is false!" Dr Banda said.
Meanwhile his counterpart Geoffrey Bwalya Mwamba said accusations that Dr Banda would defect to the PF was one of the skims to distract people from real issues on the ground which was that of the presidential petition.
He refuted claims that he is agitating for a convention saying "We don't want a convention because we already have a President in HH."
He said no one in UPND is calling for a convention because the party was not short of leaders.
He also said he was not a political prostitute and that he only joins parties which fight for the voiceless in the country.
He said he can't go back to the vomit of PF which he described as a bunch of liars who lied to the Zambians that they will end load-shedding, hunger and poverty in the country when just three days after elections load-shedding was back.
He said his Party would follow the correct channel of going to the courts to seek redress but that when it fails they would move to the "next stage".
He also said If he needed contracts he would have been going to kneel for "ka Edgar" but that he was blessed with business senses adding that " imagine how I would look kneeling for contracts kulii Ka Edgar with my big stomach."
Others at the briefing were former MMD President Nevers Mumba, former Vice President Guy Scott and ADD President Charles Milupi.