World telecommunications giant puts cutting edge hardware and research on display
The future of high-speed mobile internet connectivity was unveiled in Lusaka today as leading global ICT solutions provider Huawei Technologies introduced the latest electronic capabilities to the market.
Rising demand for mobile broadband services and the new generation of smartphones has spurred the telecommunications giant to develop faster and more reliable systems to enable network providers to stay ahead of demand from consumers and business users.
Deputy Secretary to the Cabinet Amb. Peter Kasanda officially launched Huawei's 'Open Roads to Better Connected Zambia' mobile broadband roadshow at the Radisson Blu Hotel today (September 27) in an event designed to raise awareness of the company's electronics capabilities among customers, government and stakeholders.
Huawei Technologies' mobile broadband hardware was showcased in a large truck which also served to highlight the electronics giant's cutting edge research and development.
"Huawei is committed to continue delivering qualified products and services to our customers, keep working as the economic belt for two counties co-operation and for two people's friendship," said the Country Director of Huawei Technologies Zambia, Emilion Ming.
The roadshow is intended as a platform for communication and idea exchange and will surely help both of us to develop many inspirational ideas.
Ambassador Kasanda said: "The government is pleased to support the holding of this roadshow event because it has come at the right time when business houses are looking for the latest ICT innovations to support their business. The event has also come at an opportune time when people are in need of the best solutions to deal with emerging challenges of information and communication technologies (ICT)."
Research shows that a 20 percent growth in ICT investment will increase a country's GDP by 1 percent, which means in today's digital world the power of broadband and ICT innovation and infrastructure should be regarded as a national strategy, he added.
Chinese company Huawei is the world's largest telecommunication and ICT solutions provider, serving 45 of the world's top 50 telecom operators. Its products and solutions are benefiting one third of the world's population.
The roadshow was also supported by Chinese Economic and Commercial Counsellor Ouyang Daobing, who told the assembled dignitaries: "In the context of the all-weather and long-lasting friendship between Zambia and China, we have witnessed growing economic activities as well as cultural exchanges between the two nations. More and more Chinese enterprises and individuals come to Zambia for business, bringing new technologies and products to enrich the lives of Zambian people, transferring knowledge and creating new job opportunities for Zambian people. I am so proud to see Huawei, as the leading global ICT solutions provider, playing an active role in providing and promoting ICT infrastructure and services for Zambia in the last 12 years."
With the joint effort of 170,000 employees in more than 170 countries, Huawei is ranked 129th of the Fortune 500 companies.
The mobile broadband roadshow attracted many different corporate customers and partners in the ICT industry and allowed Huawei to share its vision of ICT transformation strategy. Huawei operates in more than 170 countries in the world with over 60 of them in Africa. In 2015, the company shipped over 100 million smart phones worldwide.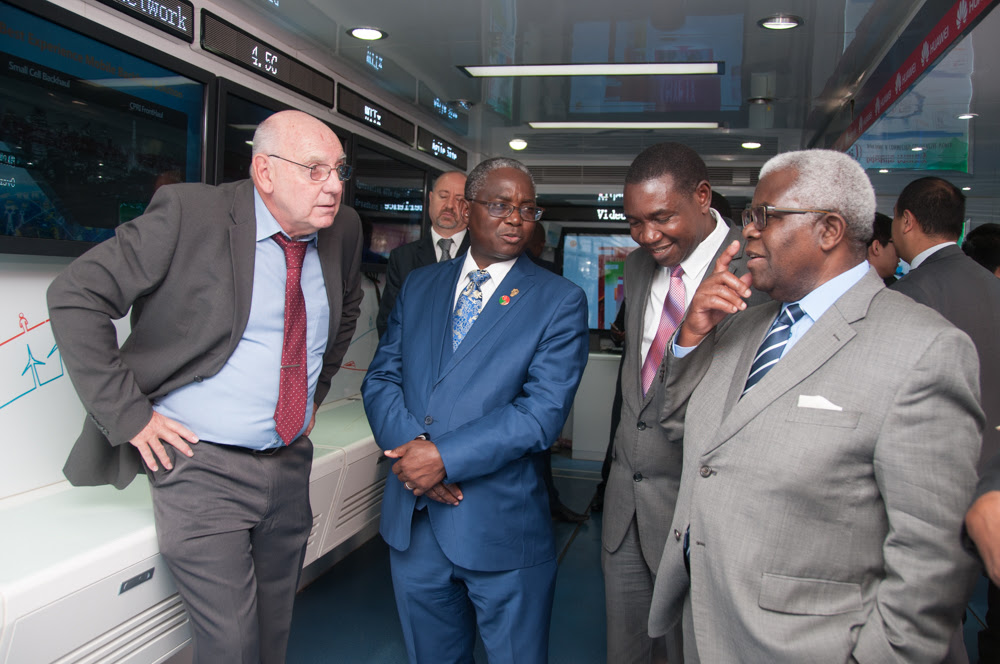 About Huawei Technologies Zambia
China-based company Huawei Technologies has been established in Zambia for more than 12 years and employs around 100 staff, most of whom are local Zambian people including those holding key senior positions.
The company is bridging the digital divide with its technologies and solutions for telecommunications networks, consumer devices, and cloud computing, and was the first to introduce the high-speed 3G network to Zambia.
The information and communications technology (ICT) company is a strategic partner and solution provider for all the telecommunications operators in Zambia.
Huawei works with around 200 local suppliers and sub-contractors, helping to create thousands of additional jobs.
Recently the company was awarded a contract by the Zambia Information and Communication Technology Authority (ZICTA) to install 169 mobile telephone base stations in rural areas, helping to bring connectivity to remote communities.
[Read 48 times, 1 reads today]