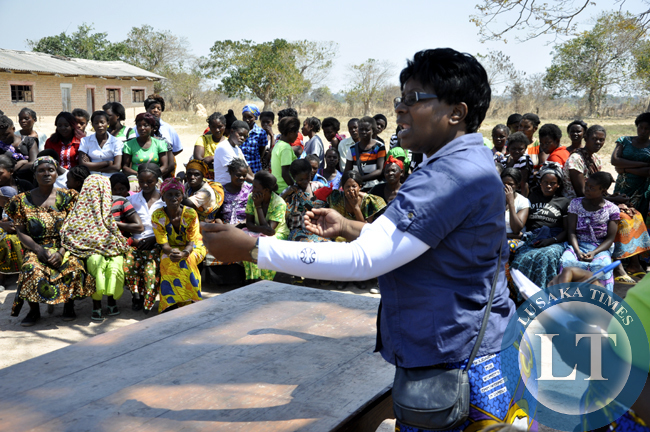 Non-Governmental Organizations' Coordinating Council (NGOCC) Executive Director Engwase Mwale is elated with the response the people of Luapula and Northern Provinces have given after the campaign to end Child Marriages was launched 18th may, 2016, reports Pan African Radio Journalist Hermit Hachilonde.
In the wake of escalating levels of early marriages in Zambia, the NGOCC embarked on a community project dubbed ending child marriages in Luapula and Northern provinces to arrest the vice.
Speaking with the committee members alongside the IM Swedish Development Partner Regional Director Southern Africa Maria Kempe who is one of the funders for the project after paying a courtesy call on Sub-Chief Mulala of Northern Province on Saturday the 1st October, 2016, Engwase Mwale Mr. Mwale assured the villagers that NGOCC will remain committed to end Child Marriages in Zambia.
"Am happy with your response towards this project and am assuring you that as NGOCC we will remain committed to end child marriages in Zambia" Ms. Mwale said
During the discussion the committee members disclosed that at least six-nine girls have gone back to school in Chief mulala's area due to the NGOCC's door to door campaign to curb early marriage in the province.
The Committee Members added that even boys are now are going back to school, affirming that so far twenty-five boys have gone back to school due to the same NGOCC project.
Meanwhile, in Chieftainess Mwenda of Northern province it was revealed that parents have retrieved eighteen who were married off at tender age after the sensitization, confirming that the girls are now ready to continue with school.
Towards the end of the year 2015, the NGOCC carried a research on early Marriages in Zambia and found that the number of girls married off at a tender age was very high in mulala, katuta and Chibaye Chiefdoms and on that account the NGOCC was prompted to initiate the program in Northern and Luapula.
It was also discovered that teenage pregnancies rate in the named three chiefdoms was about 87 percent which was alarmingly high a trend which the NGOCC described as a source of grave concern.
Meanwhile, the IM Swedish Development Partner Regional Director Southern Africa Maria Kempe equally expressed happiness with NGOCC's engagement with villagers regarding early marriages in Zambia and the response from the villagers.
"Am impressed with you people with response to the NGOCC project" Ms. Maria Kempe said
[Read 89 times, 1 reads today]