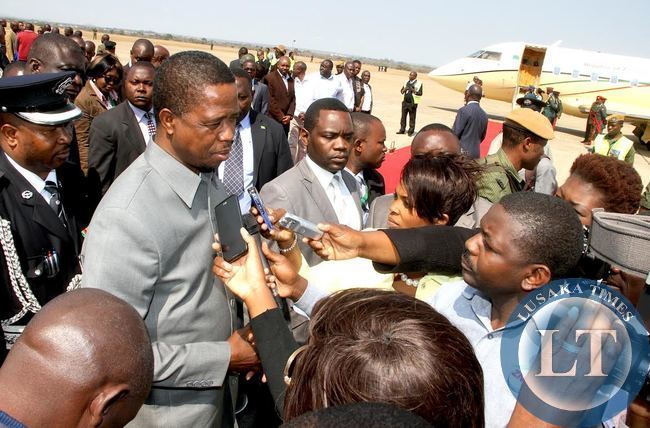 President Edgar Lungu said he does not need to be accepted as President by the opposition United Party for National Development (UPND).
Mr. Lungu said he was the democratically elected President of Zambia and he was recognized by the Zambians and the world at large.
He was reacting to a question from journalists that the UPND does not recognise him as President of Zambia.
The President said this at Kenneth Kaunda International Airport shortly before he left for Ndola to watch the football match between Zambia and Nigeria.
"I don't need to be accepted by the UPND. I am here, and I am the President. I am accepted by Zambians and the world at large. So what is their problem? I don't need recognition from them," he said.
He said the electoral process went on well in a democratic manner and the parallel voter tabulation (PVT) showed that he won the Presidential elections.
Mr. Lungu said the UPND can choose to remain in denial and delusion but the country will continue to move forward.
In response to remarks by the UPND that they will give the Patriotic Front (PF) a tough time in parliament despite the ruling party having large numbers, President Lungu said Zambians were mature and if the UPND contribute to developmental issues, they will appreciate them.
He however said if UPND Members of Parliament make fools of themselves in parliament, the Zambians will judge them.
He said Zambians do not entertain mischief but want tangible development.