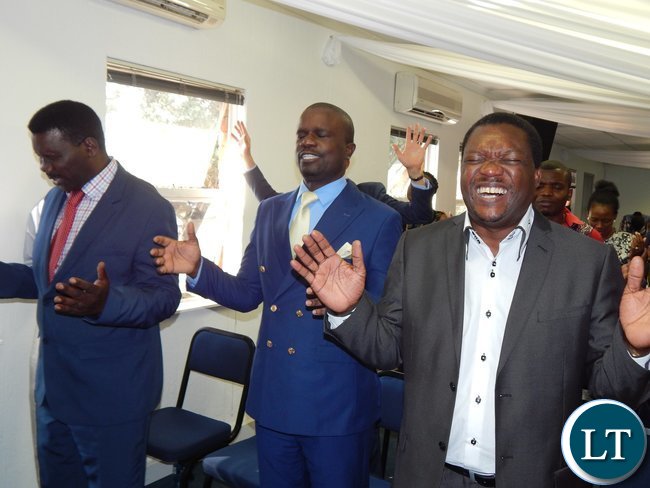 SCORES of Zambians resident in South Africa yesterday afternoon gathered to commemorate this year's National Day of Prayer, Fasting and Reconciliation which falls on Tuesday, 18th October.
According to a statement released to the media by Nicky Shabolyo, the Press Secretary at the Zambian High Commission in South Africa, Zambians, who were joined by other nationals also resident in South Africa, prayed for President Edgar Lungu and all others Zambians holding positions of leadership, for love and unity among Zambians, reconciliation and forgiveness. The Zambians also prayed for the growth of the national economy during which they asked God to help overcome the challenges and enable every Zambian use their talents so that they could contribute to the growth of the economy.
Other prayers petitioned God to protect Zambia from natural disasters such as drought, disease and earth quakes, also for God to look favourably on South Africa so that it could overcome all its problems.
Father Harrison Mulenga of Pretoria, who directed the service, prayed that Zambia continues to enjoy the peace and stability which it has had since independence.
The prayer service was held at Every Nation Church in Midrand, Johannesburg.
Pastor Gideon Kapafu of Bread of Life Church in Midrand, who gave the main sermon, urged Zambians not to worry whenever the country encountered political, economic or other types of problems because Zambia had secured God's intervention in such times.
Pastor Kapafu said Zambia's National Day of prayer was a special day as this was when the country remembered the covenant that the country had entered, through its leaders, with God.
"I want to say that Zambians should hold their peace as Zambia is in God's hands. We have secured God's help whenever we have problems and the future is in God's hands. He knows where He is taking us and I know we shall arrive safely," Pastor Kapafu said.
In her address to the congregants, Deputy High Commissioner to South Africa, Ms. Philomena Kachesa, said the national prayer day was not intended to impose a religious view on anyone but was an act of a "wonderful expression of goodwill and love by those who choose to pray for the continued success of our nation, out of a desire to honour the God in whom we believe."
She said President Lungu's proclamation of the day was centred on 2 Chronicles 7:14 which says: "If my people, which are called by my name, shall humble themselves, and pray, and seek my face, and turn from their wicked ways; then will I hear from heaven, and will forgive their sin, and will heal their land."
Ms. Kachesa said the President has called upon all Zambians to, with a deep sense of shame, repentant sorrow, and deep reverence to unite in humbling themselves before God, in confessing their individual and national sins.
"President Lungu has also called on Zambians to restore the friendship and goodwill which prevailed in former days among the people of all provinces and tribes in the country."
"We need to ask God to remove from our hearts that pride of opinion which would compel us to continue in the wrong for the sake of consistency and desire to be applauded by men rather than God," she said.
The event to commemorate Zambia's National Day of Prayer, Fasting and Reconciliation in South Africa was spearheaded by the Zambian High Commission in Pretoria with the help of a committee comprising some members of the Catholic Church and some Pentecostal churches.
Commemoration of the national prayer day was brought forward to today as 18th October will be a normal working day in South Africa.