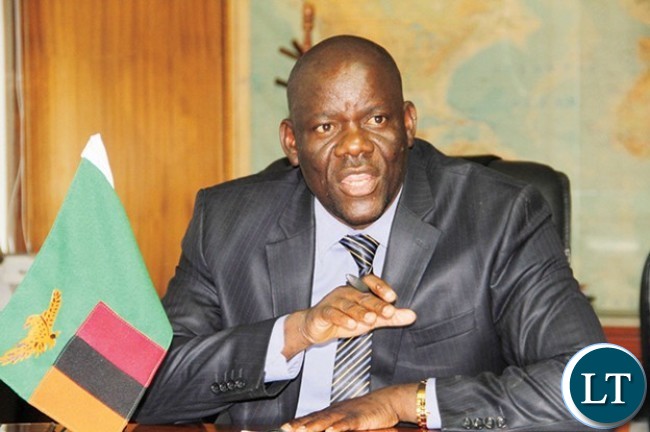 Patriotic Front (PF) Secretary General (SG), Davies Mwila, says opposition political parties that shun national events in Zambia should consider themselves irrelevant.
Mr. Mwila says party leaders, especially from opposition political parties, should strive to participate in Independence Days and any other national event.
He was speaking in an interview with ZANIS on the side-lines of the Zambia's 52nd Independence Day commemorations.
He regretted that UPND leader, Hakainde Hichilema, has shunned the 2016 independence celebrations when he is a major opposition leader himself.
And Mr Mwila says Independence Day is not for the PF party alone but for all citizens from all walks of life.
Mr Mwila said this year's theme is appropriate in that it is about uniting the nation through hard work and patriotism.
He congratulated both youths and the freedom fighters including some opposition leaders that attended this year's celebrations country-wide.
"Independence Day celebrations are beyond partisan politics. It is very regrettable that Mr Hichilema can shun such an event when this year's theme is about unity," he said.
Meanwhile, opposition National Restoration Party leader, Cosmo Mumba, has appealed to President Edgar Lungu to unconditionally release the 'political' prisoners so that they could be re-united with their families.
Dr Mumba further appealed to the Church to call for an urgent indaba to resolve the political impasse surrounding unity and reconciliation.
He noted that Zambia is a Christian nation and her peace is a shining example to other countries not only on the African continent but on the globe.
Opposition and sole female FDD leader, Edith Nawakwi, and her People's Party counterpart, Mike Mulongoti, were among those attending the Independence celebrations .
Zambia attained her independence on October 24, 1964..
Visiting Ugandan President, Yoweri Museveni, who arrived in the country yesterday, is officially gracing the event at State House in Lusaka.
The 2016 independence theme is," Working together for greater unity, hard work and patriotism."
And it is ridiculous for some opposition political parties to shun the Independence Day celebrations because the event goes beyond political affiliations, former freedom fighter and veteran politician Sikota Wina has said.
Mr. Wina has described the opposition's boycott to attend the Independence celebrations as refusal to acknowledge that Zambia was an independent State. He said only people who were not happy and proud that Zambia got her Independence could shun such an important national event.
Mr. Wina stated that the Independence Day celebration was far beyond political affiliations, charging that the move by some opposition political parties to shun the celebration was not in the interest of the country, but selfish interest. "This is a day when we celebrate our freedom from bondage, and one shunning such an event is giving a message that they lack that feeling of being happy that we got Independence. "Independence Day celebrations are way beyond political affiliation. We are not celebrating a particular party, but we are celebrating our nationhood. So unless one is annoyed with our nationhood, one should definitely not participate in celebrating it," Mr. Wina.
He indicated that national events such as Independence Day must be valued and respected because they provided a forum for unity and harmony. Mr. Wina said political parties should put the national interest before anything else by being party to national events that helped foster the unity of the country.
"National events like Independence give us an opportunity to get together and so political differences must be handled at other fora other than this. There is need to respect the Independence Day because a lot of sacrifices were made to attain the freedom that Zambia is enjoying now," he said.
And Mr. Wina has implored Zambians to guard jealously and uphold the sanctity of the nation's Independence attained at great pain by the founding fathers and make the country a better place for all.
He said freedom must not be taken for granted, urging Zambians to strive hard for peace and unity of the country at all times. "Every Zambian has a responsibility to contribute to maintaining the peace that the country is enjoying.
Attaining Independence was not easy, blood was shed and the greatest way to honour the people who fought hard for this is to remain united and work hard for the development of Zambia," Mr Wina said.