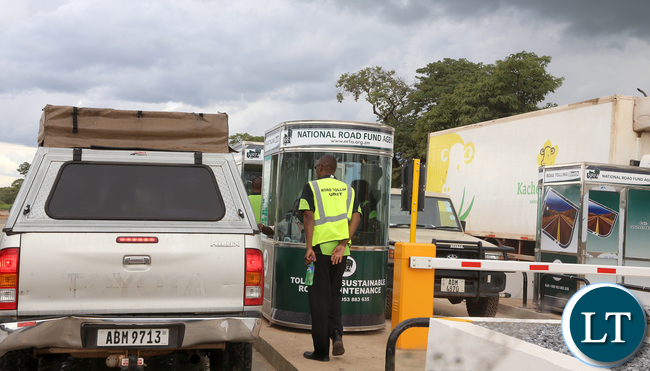 A Kafue Resident William Chilufya has complained that the 100 percent hike in toll fees are unbearable for motorists using the Kafue road.
And some Kafue residents who work in Lusaka will be required to pay an estimated K1,200 per month in toll fees.
Mr. Chilufya said the new toll fees will have a negative bearing on economic activities in Kafue as it will be too costly for entrepreneurs to travel between Kafue and Lusaka.
He has since appealed to President Edgar Lungu to intervene so that the toll fees are revised to affordable levels.
"The point must be made that whereas tollgates remain part of standard road infrastructure all over the world, in Zambia, the revised toll fees seem to be punitive, unconsiderate and unstrategic," Mr Chilufya said.
He said although targeted at creating revenue for government, tolls should not come as too much of a burden on motorists.
"For instance, the tolls to be collected between Kafue and Lusaka from Motorist who are making everyday trips to Lusaka is very punitive. Where on earth would you get K40 every day for toll gates? Is this a call to ask all motorist in Kafue to move to Lusaka?"
"So, while we are not opposed to tollgates, there should be consideration for residents of toll gates areas to avoid making their lives miserable."
Mr Chilufya said what the government must do instead of milking a few citizens is to spread the toll gate facilities and let all users share the burden at affordable levels.
"The new charges are rather too high, punitive and unbearable to most of the road users of Kafue. On behalf of my Kafue motorists, we are calling upon the Road Development Agency to be consultative and never attempt to implement such type of toll fees," Mr Chilufya said.
Infrastructure Development and Housing Minister Ronald Chitotela this week announced that Government has increased road toll fees by 100 per cent, a move which is set to increase monthly road toll collections to K400 million from the current K40 million.
Effective January 1 next year, long distance small vehicles will be paying K20 from K10, minibuses K40 from K20, big buses and light trucks will pay K50 from K25, while heavy trucks will now pay K80 from K40 and abnormal load vehicles K500 from K250.
Mr Chitotela said the move would help the Government collect K4.8 million per year, thereby aiding maintenance and construction of more roads and making the road sector self-sustaining.