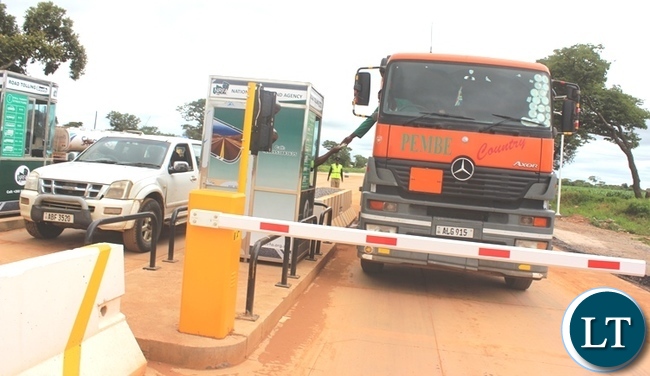 A Kafue Resident William Chilufya has written to Infrastructure Development and Housing Minister Ronald Chitotela over the recently introduced toll fees on Kafue road.
Mr. Chilufya said in a letter copied to Minister of Finance, Kafue MP, the National Road Fund Agency Chief Executive Officer and the Attorney General that the slight reduction in the toll gate fees from K40 to K30 round trip for small vehicles as reported in the media is still exorbitantly high.
He said the K10 round trip reduction for small vehicles, resulting in a fee of K30 round trip, is still too burdensome for the thousands of people who commute from outside of Lusaka each day.
Mr Chilufya warned that those who travel in their own vehicles to Lusaka each day for employment will see travel costs increase to K450 per month and that bus fares are likely to go up as the bus operators factor in toll gate fees come January 2017.
"Sir, your proposed toll gate fees remain disturbingly high and will quickly become a source of economic strife among the people of Kafue and other surrounding areas. Honourable Minister, there is more that can be done to help cushion the sufferings of the Kafue residents, who voluntarily have chosen to decongest Lusaka and settle in the outskirts, but already face high transport costs. Implementation of high tolls effectively incentivizes people to move back to Lusaka, increasing congestion in Lusaka," Mr Chilufya wrote.
"Honourable, your local user classification of 10-kilometer radius of a toll gate facility, seems to be unfair to those who have elected to live outside Lusaka, and calls us to put our heads together to figure out the best description of a 'local user'."
He added, "While I support the initiative of road tolling, and am supportive of paying toll fees, I look to you to implement an amount that will not rob my family of the little hard earned resources which are earned via our daily employment-related commute into Lusaka. My colleagues and I worried about these punitive toll fees will be happy to meet you and your team to brainstorm on this important issue."