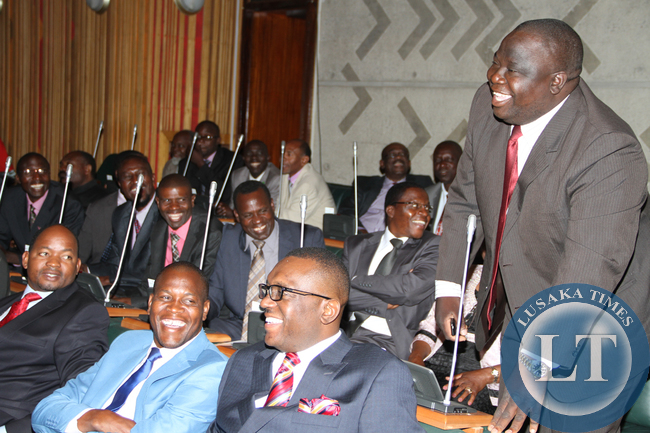 ALL the 14 Independent Members of Parliament have resolved not to support the Patriotic Front (PF) in Parliament in protest against a decree by the governing party's secretary general Davies Mwila that PF officials, councillors and mayors should not work with Independent MPs.
The 14 Independent MPs have decided that they would not be voting with the PF in Parliament unless President Edgar Lungu intervened because, according to them, the people in their constituencies should not be denied development for voting for Independent candidates.
The MPs, who yesterday held a caucus meeting with PF Chief Whip Richard Musukwa at Parliament, resolved that they would not vote with the PF on any motion in Parliament unless President Lungu addressed their concerns.
The MPs have demanded that President Lungu should address them over Mr Mwila who has directed ruling party officials not to work with Independent MPs because they did not belong to the ruling party and should therefore work on their own.
Mr Musukwa advised the MPs in his office to seek audience with Vice-President Inonge Wina but his advice was rejected as the Independent parliamentarians only wanted to meet the Head of State.
The MPs are angry that Mr Mwila has allegedly directed the PF not to work with Independent law makers.
One of the MPs spoken to by the Daily Nation said the problem has been created by Mr Mwila whom they accuse of alienating Independent MPs from the governing party.
"All the Independent Members of Parliament have refused to be used by the PF in Parliament because they are always persuaded to vote with the PF while at the same time Mr Mwila is going round the country telling party officials, councilors and mayors not to work with Independent MPs. So they are demanding that the President should address them.
"This morning, they (MPs) had a caucus meeting with Richard Musukwa where they tabled their concerns and demanded that they be addressed by the Head of State but Mr Musukwa tried to convince them to see the Vice-President and they have refused," one of the MPs said.
The Patriotic Front has a total of 89 Members in Parliament and the UPND has 58 members while Independents are 14.
The former ruling party MMD has four MPs while opposition FDD has only one.
[Read 49 times, 1 reads today]