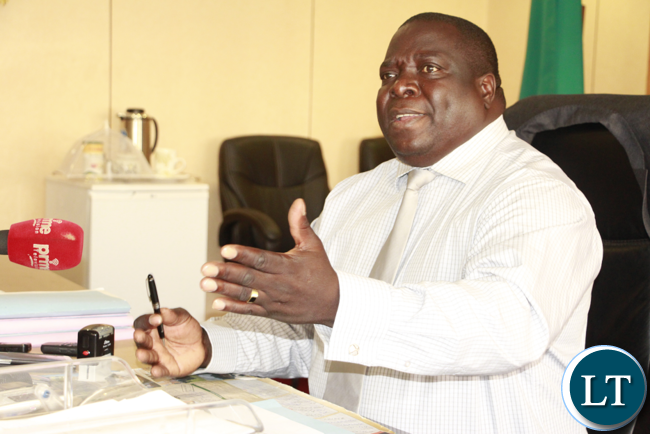 ROAN Patriotic Front (PF) Member of Parliament Chishimba Kambwili yesterday told the Speaker of the National Assembly Dr. Patrick Matibini that he was angered by Copperbelt Minister Bowman Lusambo who allegedly kept interjecting during the debate on Thursday that he (Kambwili) has sold Luanshya Golf Club land.
Raising a point of order against the Daily Nation newspaper on the floor of the House, Mr Kambwili explained that he did not threaten to beat his PF Kabushi constituency counterpart but that he only warned him (Lusambo) for accusing him (Kambwili) of having sold land belonging to Luanshya Golf Club.
The former Information and Broadcasting Services minister, however, acknowledged having referred to the Copperbelt minister as a "boy" during the debate on Thursday.
Mr Kambwili explained that when Mr Lusambo interjected his debate and accused him of selling Luanshya land, he only warned him but did not threaten to beat him.
"Mr Speaker, in my immediate response I said 'let me warn that boy'. Today…in the Daily Nation, this newspaper has decided to misrepresent the facts with impunity, portraying a picture that I wanted to beat honourable Lusambo and I was restrained and walked out of the House," Mr Kambwili said.
He also disputed that Mr Lusambo was not outside the House when he (Kambwili) was debating, adding that Mr Lusambo was inside the House and that he was the only Member of Parliament from the Patriotic Front's (PF) side who he heard interjecting him by shouting that he (Kambwili) had sold land belonging to Luanshya Golf Club.
"Is the Chief Whip (Mr Richard Musukwa) in order not to cite this newspaper (Daily Nation) for contempt of the House and refer them to the privileges committee? I seek your serious ruling. Thank you, Mr Speaker, and I will lay both the verbatim (Hansard) report and the newspaper on the table," Mr Kambwili said.
However, the Speaker reserved his ruling in order to peruse both the paper as well as the verbatim reports so that he could make an informed ruling.
Yesterday, the Daily Nation reported that Mr Kambwili threatened to beat Mr Lusambo for accusing him of allegedly selling land on the Copperbelt belonging to Luanshya Golf club during a heated debate in Parliament.