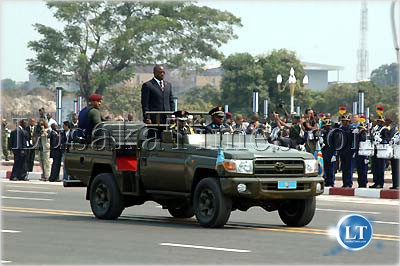 Minister of Defence Davies Chama says Zambia is hopeful that peace will prevail in the neighbouring Democratic Republic of Congo -DRC- following a deferred election.
Mr. Chama said Zambia stands ready to receive asylum seekers and refugees who might run away from Congo D.R. due to anxieties resulting from the deferred election.He said it is normal for some citizens to run away from their country because they are scared of the election mood.
Mr. Chama said the mood in Zambia during the 2016 General election was a case in point as tension was high adding that it is gratifying that the country still emerged as a beacon of democracy.
The Defence Minister says President Edgar Lungu has sent a high powered delegation which he is leading to check on the plight of local citizens, refugees and asylum seekers along the border lines of Luapula and Northern Provinces.
The Minister was speaking in Nchelenge District, Luapula Province, when he visited Kirwa Island.
Minister of Home Affairs Steven Kampyongo, Luapula Province Minister Nixon Chilangwa, Luapula Province Permanent Secretary Buleti Nsemukila, Home Affairs Deputy Permanent Secretary Willies Manjimela, Defence and security dignitaries among others are in the entourage.
And Mr. Chama said the 48 Marine Commando Unit launched by President Lungu last year is meant to help in the fish ban control contrary to assertions that they are meant to harass the people of Nchelenge.
Speaking at Chipungu Border Post in Chiengi District, the Defence Minister said Government is happy with the vigilant defence and security wings who are maintaining law and order as well as the territorial integrity of the country.
And Mr. Kampyongo said the people of Kirwa Island in Nchelenge should remain alert at all times.Mr. Kampyongo has further called on security wings in Chiengi District to be more alert as the District recorded 18 refugees from Congo D.R. a month ago.Luapula Province Minister Nixon Chilangwa said the Provincial administration will work with stakeholders to ensure comfort for Refugees and asylum seekers.