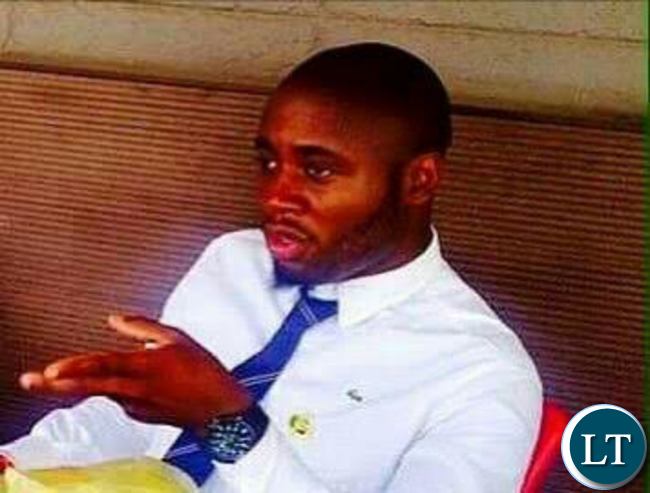 By PRINCE J. NDOYI
As youths in the country we want to make comment on the news making rounds in the media as regards PF President Edgar Lungu's eligibility for 2021. Given that we are just from a general election, we see this as retrogressive and misplaced. We observe that the PF being the party in power is exhibiting a lack of focus and is consuming and draining the public's energies away from discussing serious issues.
We posit that the PF is making a mistake and will soon regret when people demand answers. What has PF done in the last six years to warrant the debate on the presidency barely two months after the general elections.
The Zambians are suffering instead of debating whether President Edgar Lungu is eligible to stand in 2021, what the PF should be doing especially the youths in the party is to understand when the campaign promises made by the party will be actualized. They must ask themselves if they have delivered on their promises ; they promised cheap food, jobs for the youths, we have a power deficit which they did not find.
In this time of economic crisis Zambians need and deserve leadership that thinks first and foremost about the people and not themselves and how long they will stay in power.
Instead of commenting on 2021, there are a lot of issues Zambians want the President to comment on, take for instance there are allegations by Saviour Chishimba of our President's involvement in the maize scam with Malawi and corruption at FRA or the illegal stay of cabinet ministers and it's legal ramifications because the courts have ruled and the Zambian people need to know how they will recover those monies paid out to cabinet and deputy ministers, but he has gotten in on this unproductive, retrogressive and repugnant debate.
Now as a people we must not be focusing on new promises and whether the President should stand, we must be discussing results. This is a clear case of misplaced priorities and must not be condoned by any well thinking Zambia.
Advice to the PF is that they must concentrate on working other than dragging the public into their intra party power struggle at the expense of working to deliver on their campaign promises. All of us must work and focus towards helping President Lungu whom we just elected to deliver.
We urge the media to focus on the Zambian People, not Politicians, we must all choose to make a conscious choice to talk about the issues that affect the people, rather than to waste time commenting on other politicians, their personal opinions on the constitution, to us seems somewhat misplaced. The media must not descend to low levels in diverting the attention of the people from real issues to trivialities like this one.
Regardless of how close or far we are to an election we do not think it is prudent for us to engage in unproductive debates, while matters of national importance are neglected. The focus must continue to be on the PF Government's track record and the alternatives and channeling our energies into discussions that advance the agenda and platforms to alleviate poverty and reduce hunger for our people.
We shall not divert attention away from the real issues at play there are medicine shortages in our hospitals, clinics are suffering from critical power shortages and citizens are going hungry due to the increased price of essential goods and services.
Corruption, act of personal aggrandizement,ethnic chauvinism and unnecessary fratricidal struggle created by renegade politicians to divert the attention of the people from meaningful programmes to unmeaning programmes have been the major reasons for the fall of far too many good leaders.
A close look at the last five years requires far much more, but politicians in the PF are carefully strategically hiding the past and somehow diverting our attention away from results and onto new promises.
We warn these politicians that have continued to falsely claim progress while diverting attention away from institutionalized corruption and structural poverty. Actually, this does nothing to increase access to vital resources or address the pandemic of foreigners benefiting more from our wealth as a nation. How do we explain today's situation where only less than 20percent of our wealth belongs to Zambians while the rest is in foreign hands especially the Chinese? How do you explain CHINESE SECURITY GUARDS SURELY, Chinese national owning shops in our council markets? Chinese nationals are winning all contracts and we need to hear the voice of the leaders in the PF strong on these issues other than the future of one individual.
They are hoodwinking the public with propaganda to create a divide in the society so that peoples' attention could be easily diverted from real issues like unprecedented price-rise, unemployment and poverty, thousands are still without a decent shelter after 5 years.
No wonder social media is getting to be the real source of real news than reading biased newspapers who have lost their freedom because they sold it to the highest bidder and feeding people trivial news. Some media outlets have been turned into mere paid puppets and mouthpieces of politicians who are on the wrong side of the law.
In conclusion, we want to encourage the Zambians the time will come when we have to fight if we must get what we need, the fight must be smart, strategy is key. The first step is how do we get the majority in one accord, to see the bigger picture? Colleagues in the urban and rural alike because there is a Zambia bigger beyond 2021.
GOD BLESS OUR GREAT NATION ZAMBIA!
The Author is the Governance and Political Advisor at Zambia Volunteers Network.