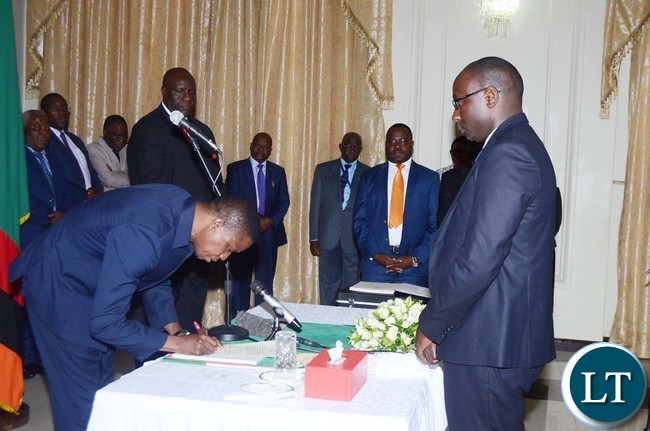 PRESIDENT Edgar Lungu has said the ongoing reshuffles of staff in the civil service are neither tribal nor political, but a measure to curb lethargy and enhance productivity.
Mr Lungu said he was implementing the changes to revitalise the civil service, because if Government operations were sluggish, the country would not achieve meaningful development.
The Head of State said people or institutions seeing tribalism and political victimization in his administration of staff in the civil service, unfortunately, were politically inclined in every activity that they undertook.
"Let me point out that the ongoing transfers, reshuffles and retirements in the civil service are not a witch-hunt.
"They are intended to revamp the civil service because I realise that with a sloppy civil service, we cannot deliver to the people of Zambia," President Lungu said.
The Head of State said this at State House in Lusaka yesterday when he swore in Mukuli Chikuba as Ministry of Finance Permanent Secretary in charge of economic management and finance.
Mr Chikuba has been elevated from the position of director in charge of economic management.
The President said he did not want the Patriotic Front (PF) Government to fail the electorate on account of a lethargic civil service, hence the move to revamp the system.
Mr Lungu said he was re-elected to serve the electorate efficiently and would do so to the best of his ability because Zambians were eager to see the electoral campaign promises of the PF since 2011 until last year's general elections materialised.
"So those I am appointing, those I am transferring and those I am promoting, please share my vision and let us work for the people of Zambia.
"No politics, no tribalism, no settling scores, let's just work. Time for campaigning and politicking will come," the President said.
He congratulated Mr Chikuba on his appointment, urging him to be an example of civil service personnel who had risen through the ranks, and an inspiration to his peers that young people could excel to hold positions of authority.
Mr Chikuba told journalists after the swearing-in ceremony that he would work diligently to contribute towards harnessing the measures that the Government was implementing to stabilise the economy.