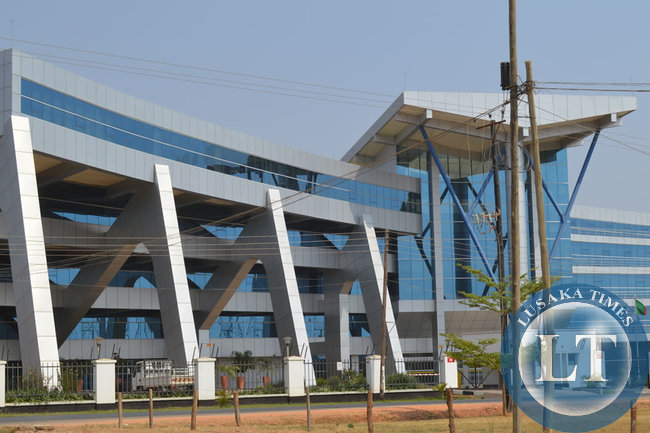 ZAMBIAN companies importing cheap fuel are furious with the Energy Regulation Board (ERB) for suspending their importation licences to compel them to start purchasing expensive fuel from Indeni in Ndola.
"Why should we be forced to buy oil from Indeni at K13 a litre when we can buy the same at K9," they asked.
It is illegal, they said for ERB to stop companies from ferrying cheaper fuel from Sasol in South Africa which they said would land in Zambia for less than K9 per litre compared to the K13 they would now be paying from Indeni.
The companies argued that suspending the importation of cheaper fuel from South Africa and forcing them to buy the commodity coming from Tanzania which was more expensive did not make any sense.
They questioned ERB's logic behind contracting three middlemen which were mainly owned by foreigners to import expensive foreign oil while overlooking Zambian companies which had better balance sheets and were capable of supplying the commodity to the end-users cheaply.
"Why employ middle men leaving out major oil marketing corporations which have a better balance sheet and more facilities on the ground including petrol stations around the country, they have asked.
The Zambian companies complained said ERB already had their Letters of Credit by the time the suspension was being effected and demanded to know what would happen because the suspension notice had not explained on that.
They said ERB was aware that Zambian companies involved in the importation of oil business had prior arrangements and that they were now being forced to buy the commodity from Tanzania which was fetching at K13 while Sasol offering the same at around K8.
"As if that is not enough, we have three middlemen in the importation of fuel. The shareholding of two of these companies is dominated by foreigners while one of them is not even registered with the Patents and Companies Registration Agency (PACRA), yet we have Zambian companies with the same financial muscle being overlooked," one of the sources complained.
The companies said ERB should allow them to clear the fuel stocks which they had purchased before the suspension was effected.
In a notice by ERB to OMCs signed by executive director Langiwe Lungu, the board suspended importation of petroleum products except for Low Sulphur Gas Oil (LSGO) imported for mining companies and Jet-A-1.
However, OMCs intending to import LSGO would still have to acquire prior written consent from ERB which would only be granted upon satisfactory proof of confirmed orders.
"We wish to advise the suspension of Chapter 3 of your licence (the importation consent) effective January 17, 2017 as the said activity is no longer necessary in public interest. The suspension shall remain in force for a period of six (6) months or until earlier lifted.
"Further, we wish to advise that this suspension will not apply to Low Sulphur Gas Oil (LSGO) imported for mining companies (the mineCos) and other specialised users, and Jet-A-1.
"However, the importation of LSGO shall require prior written consent from the ERB. The consent shall be granted upon satisfactory proof in form of a schedule of confirmed orders," read the notice in part.
Below is ERB Statement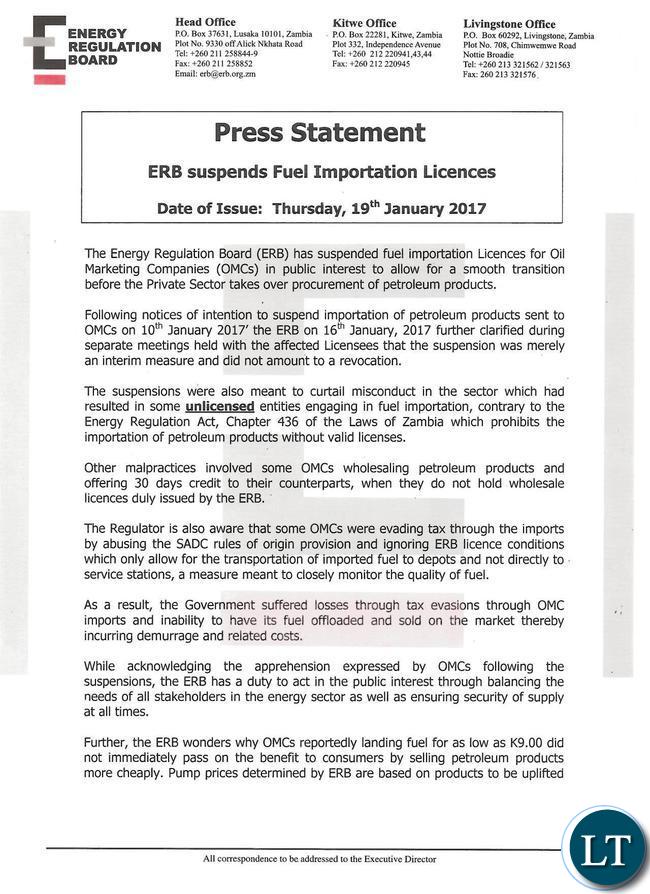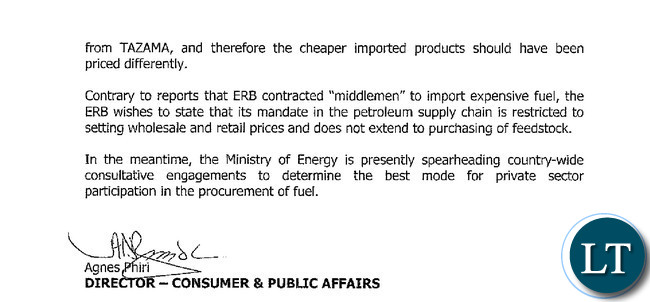 [Read 659 times, 1 reads today]