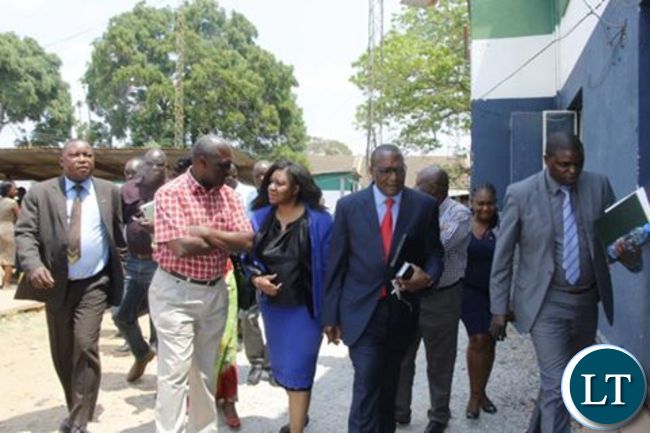 A STATE witness yesterday told a Lusaka magistrates court that United Party for National Development (UPND) legal counsel Martha Mushipe convened a meeting to establish a crack squad to disturb peace in the country.
Mushipe is charged with seditious practice.
Ephraim Shakafuswa, 44, of Kabangwe told magistrate Felix Kaoma that at the meeting Mushipe tasked him and other people to disturb peace in the country through violence.
"I was among other people perceived to be radicals in the UPND who were called to an emergency meeting at the law firm owned by Ms Mushipe to form a task force on July 16, 2015," said Mr Shakafuswa.
He said Mushipe told the team of about 10 youths the task force was to be secret and unknown to the party but with the mandate of mobilising the youth across the country to commit violent acts.
Mr Shakafuswa said he and others were told the violence would serve as a sign of protest against the running of State affairs and infringements on the party's president's rights by the State through the police.
He also identified three documents as among those distributed to them by Ms Mushipe during the meeting which was entitled 'Strategy of Domination of PF against Opposition UPND 2015 – 2016 and Beyond'.
Mr Shakafuswa earlier told the court that he is a businessman, former UPND Lusaka Province coordinator and the 'Julius Malema of UPND president'.
He said the committee convened by Ms Mushipe also included a Mr Emmanuel Chilekwa and Clance Zulu, among others drawn from various UPND committees.
"The members of the crack squad were given code names and my secret code name was C3. We were also asked to look for used car tyres to be used in the countrywide protests," Mr Shakafuswa testified.
Mushipe was arrested and released on bail after being charged with seditious practice following a search of offices of her law firm by police and other security wings in Lusaka's Millennium Village.