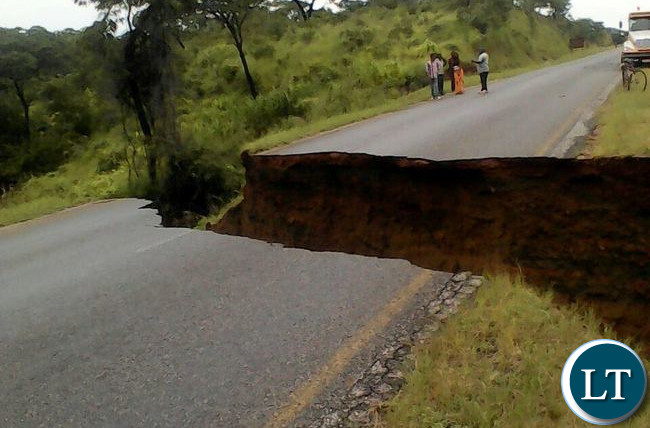 OVER hundred motorists were on Tuesday left stranded following the collapse of a portion of the Batoka/ Maamba road on Tuesday following heavy rains experienced in the area but the affected part has since been fixed temporarily by Maamba Collieries Limited (MCL).
The collapsed portion was about seven metres wide near Sikanungu stream about 43 kilometres from Batoka after hill top which left members of the public from both sides, motorists including trucks loaded with coal destined for the Copperbelt, and Democratic Republic of Congo stuck and spent the whole night on the road side.
But MCL came to the aid of the motorists when it sealed the portion with rock fill which helped to clear all the vehicles that were stuck and started off around 08 hours yesterday.
MCL Head of Construction Pantulu Gogulapati said they spent about five hours to fill up the affected portion with over 100 truckloads of rock fill.
"This is just for relief to clear the traffic, we have loaded about 87 truckloads of rocks and we need 15 more loads for the road to be better," he said.
Southern Province Deputy permanent secretary Douglas Ngimbu who visited the scene described the situation as a disaster which required interventions from all stakeholders.
Mr Ngimbu paid tribute to Maamba Collieries for the quick intervention and urged the Road Development Agency (RDA) to also access the weaker points on the same road.
"It's a disaster let's all stakeholders support RDA, this is an important road which leads to two important mines," Mr Ngimbu said. RDA Director of Communications and Corporate Affairs Loyce Saili said the agency was making arrangements to mount a bailey bridge at the affected point.
Ms Saili said bridge components were being mobilised from RDA provincial offices in Mongu and Kabwe.
"The transportation of the bailey bridge components will begin today (yesterday), the components are being mobilised from provincial offices in Mongu and Central province," Ms Saili said.
Sinazongwe District Commissioner Protacio Mulenga said the entire road needed to be re-done as a shoulder of the road at Malabali has already been eroded which calls for urgent attention.
Mr Mulenga said the situation should not been politicised as a RDA was working on putting up a baily bridge.
Area Member of Parliament Gif Sailubalo was also found at the scene and also officers from the National Council of Construction were also found questioning some RDA engineer as to whether they carried out an assessment of the road last year.
The wash away had been attributed to flash floods which have been experienced in the area.