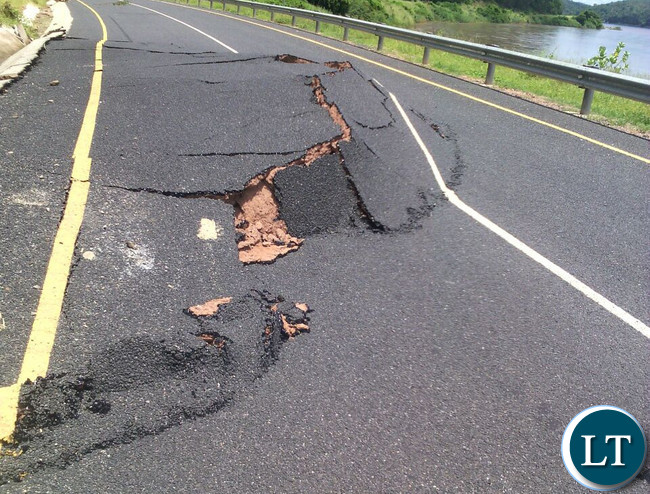 The newly tarred Luangwa D145 main road connecting the District to the Great Road has developed serious cracks posing a threat that the District might be cut off from the rest of the country and also posing a danger to motorists.
Luangwa District council Chairman, Austin Bota and some members of the District Joint Security Committee who visited the damaged portion which is about 5KM from the Great East Road on the D145 Luangwa main road in Mankhokwe ward this afternoon where surprised at the damage done on the road which has left only one lane passable.
Mr Bota could not believe the damage done on the road fearing that the District might be cut off from the Great East road.
He appealed to the Roads Development Agency (RDA) to quickly come and access the damage and the cause, as what has caused the cracking and making the road to bulge cannot be explained.
The Council Chairman further expressed concern that the damage which seem to be expanding to the other lane that the District might be cut off from the rest of the country and this might affect the provision of service delivery to the area.
One motorist with a Dangote truck carrying cement to the Boma 79Km from the Great road had to turn back for fear of adding more damage to the road.
The cracks which started very small in the early hours of today had developed to big cracks by noon and there is fear that they will extend to the remaining lane.
Locals living near the affected area told the Council Chairman that the cracks which were noticed after heavy rains which hit the area are expanding almost every hour and also expressed concern at the falling rocks from a hill near the road which have rolled on the road.
Meanwhile Luangwa Police Officer In – Charge, Assistant Superintendent, Muleta Mataa has called on police officers at Luangwa Bridge and Chitope to monitor the spot and guide motorists to avoid accidents.
And RDA director -communications and corporate affairs Loyce Saili has confirmed to ZNBC news that the agency has dispatched a team of engineers to access the damage .
Mrs. Saili says the damaged has been occasioned at approximately 4 kilometers from the junction of Great East road.
The agency has advised road users travelling to and from Feira not to use the road as their safety cannot be guaranteed because the structural integrity of the road has been compromised.
Mrs. Saili says the agency has instructed the contractor China Geo to mobilise to site to help in remedy the situation.
The agency will be able to give a comprehensive statement on the extent of the damage to the road today and the possible intervention required to fix the damaged section.