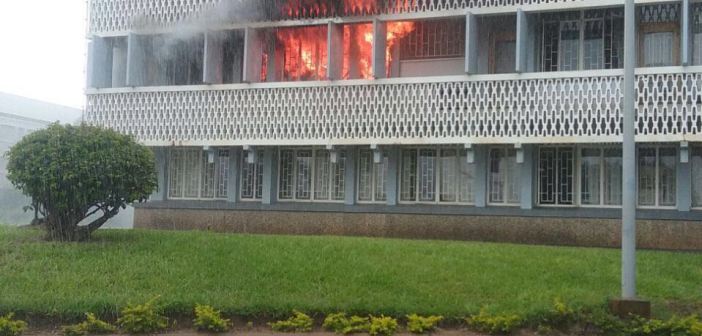 Office of the Malawian Minister of Agriculture Dr George Chaponda at the capital hill has been gutted by fire.
Dr Chaponda is at the centre is at the centre of a US$34.5 million maize scandal regarding the purchase of maize from Zambia.
Eye witnesses however has failed to explain the cause of the fire.
"Yes, it was gutted around eleven hours this morning while the Minister was in Parliament. We don't know the cause," said some eye witnesses.
Rumphi Member of Parliament Kamlepo Kaluwa asked Chaponda to explain to the house the cause of the fire of his office.
However, Minister of Information who is also government spokesperson Nicholas Dausi rubbished the rumors.
"No one knows the cause of the fire, it is therefore unacceptable to accuse the Agriculture Minister Dr George Chaponda. As government, we shall comment on that after knowing the cause, but as of now what we know is that the office is on fire," said Dausi.
Some quarters suspect that the Minister is behind the development especially in order to shield some maize-gate related information.
[Read 18 times, 1 reads today]