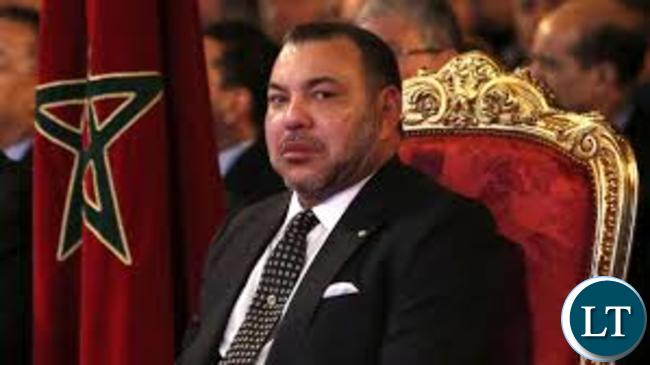 Foreign Affairs Minister Harry Kalaba has announced that Morocco King Mohammed VI arrives in Zambia tomorrow for a three-day state visit.
The King will be visiting Zambia at the invitation of President Edgar Lungu.
The visit to Zambia by His Majesty the King, which is part of the King's five nation African tour, is the first to be undertaken by a Monarch of the Kingdom of Morocco to Zambia.
In December last year, King Mohammed abruptly cancelled a state visit to Zambia in protest over Zambia's dealings with Western Sahara, a territory Morocco continues occupying.
On this latest trip, he will also be visiting Ghana, Côte D'Ivoire, Guinea-Conakry and Mali.
Some diplomatic sources are saying that the Lusaka leg of his trip could be the hardest diplomatically.
Zambia recent u-turned on its earlier decision to withdraw its recognition of Western Sahara and reaffirmed its long held support of the Polisario, a socialist group fighting for independence for Western Sahara against Morocco.
Despite intense diplomatic pressure from South Africa and Zimbabwe, it seems that President Edgar Lungu would rather look for fruitful deals with all African nations rather than be restricted by old ideas.
Last month, President Edgar Lungu hosted President of the Sahrawi Arab Democratic Republic Brahim Ghali at State House who was in the country for a three-day state visit.
A statement from Mr Kalaba's office said the purpose of the visit is to consolidate and review the existing warm relations between Zambia and Morocco by deepening economic cooperation and trade partnerships in key areas of development for the mutual benefit of the two countries.
During the Visit, Zambia and Morocco are expected to sign several Agreements in different sectors, aimed at enhancing economic integration and intra-regional trade, as well as promoting greater complementarities in national economic strategies.
"The Honourable Minister would like to emphasise that the private sector is a key contributor in alleviating poverty as it provides various economic opportunities in any given society and compliments Government's efforts aimed at improving the economy through diversification and enhancing inclusive economic growth and job creation," said Ministry Spokesperson Dorcas Chileshe.
She said during the visit, the Zambian Government has facilitated a Business Forum that is being spearheaded by the Zambia Chambers of Commerce and Industry (ZACCI), the Zambia Development Agency (ZDA), the Zambia Federation Employers (ZFE) and the Moroccan General Confederation of Entrepreneurs (CGEM).
The Business Forum which took place on Saturday, 18th February, 2017, has drawn participation of high ranking business leaders and CEOs of private companies from both Zambia and Morocco, providing a unique and viable networking platform which will enhance private sector engagement as well as the establishment of trade links between the two countries.