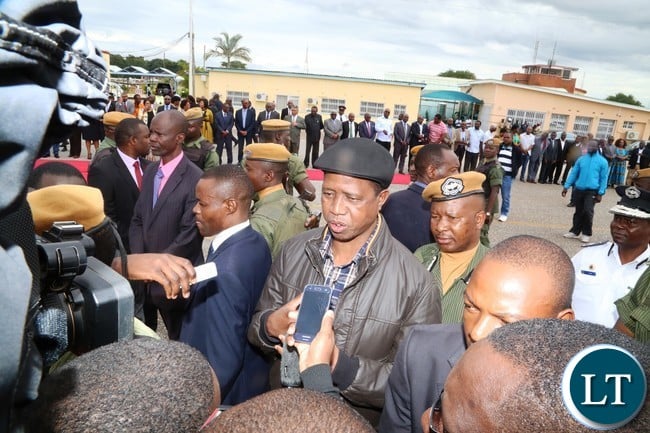 President Edgar Lungu has said that he is not going to relieve PF Secretary General Davies Mwila of his duties. President Lungu has said that he has no reason to drop the PF Secretary General.
He was responding to a question from journalists upon arrival at Lusaka City Airport from Solwezi on calls by some Chiefs in Luapula Province and party Central Committee Member Mwenya Musenge that Mr. Mwila has failed to mobilize the party.
The President said Mr. Mwila has only been in office for a short time adding that the party is being mobilized.
He has also questioned the interest of the Chiefs in the matter.
President Lungu whose plane touched down at City Airport at 15:20 hours was received by Minister of Justice Given Lubinda, Minister of Health Chitalu Chilufya and Sports Minister Moses Mawere along with senior PF officials.
Meanwhile, President Lungu has warned of stern action against civil servants and PF officials who will be peddling falsehoods with a view to frustrate Government programmes.
The President said that he will not tolerate dissent because his Government is in a hurry to deliver the PF's 2011, 2015 and 2016 election campaign promises.
President Lungu said that time for witch-hunting and politicking elapsed with the August 11, 2016 general election and that now is time for everyone to work together to develop the country.
The Head of State was speaking when he addressed civil servants and party of officials last evening in Solwezi.
President Lungu also called for co-existence between Patriotic Front (PF) officials and civil servants in North Western Province for the sake of development.
President Lungu said he is disturbed by reports of friction between the two parties which ideally should work in harmony for development to happen.
He said Government is determined to succeed but that it is only possible when civil servants accept to work with the party in power.
In a vote of thanks, Provincial Medical Officer Andrew Silumesi praised the President for the timely guidance.
And Patriotic Front Deputy Spokesperson Frank Bwalya has said that the party needs to convince North Western Province residents that it is not diverting resources meant for the province to develop Muchinga Province where late President MICHAEL SATA came from.
Mr. Bwalya said that some people are being told that the province is under-developed because its resources are being spent to develop Muchinga.
Mr. Bwalya said that the party needs to immediately break such reports because they are not true.
Mr. Bwalya has told ZNBC News in Lusaka that President Edgar Lungu has demonstrated commitment to taking development to all parts of the country.
Mr. Bwalya said the President has on several occasions visited North Western Province to show that he has nothing against the people in the region.
[Read 34 times, 1 reads today]