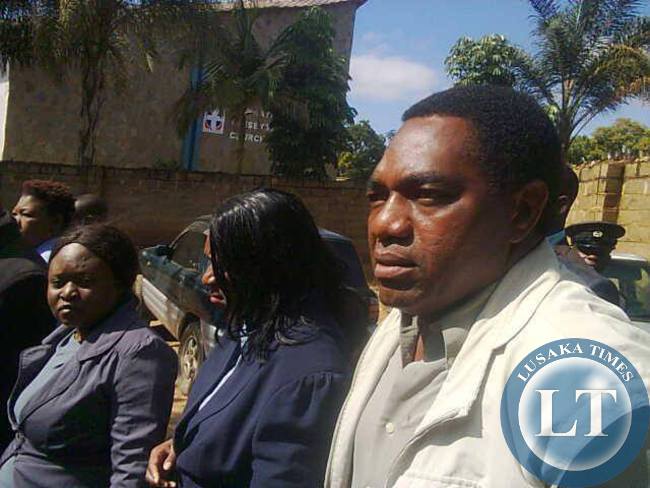 UPND Media has said that their leader Hakainde Hichilema has again been denied access to deliberate on important national issues through one of the private media house.
Mr Hichilema was scheduled to feature on a privately owned Sun fm radio situated in Ndola through remote broadcast this morning around 09:00hrs. Despite airtime being booked and all arrangements made, the radio station proprietor just cancelled the program citing what he termed as "security concerns."
Sun fm journalist who was scheduled to interview the UPND President Mr Kausa Mbasela, expressed disappointment with the abrupt decision to postpone the interview which was suppose to be done through remote broadcast as it could not pose any security fears.
This is clear that someone from the government high rank may have issued instructions to the radio station proprietor to cancel or postpone this important interview. Politicians and government leaders must know that leadership and positions have an expiry date and whatever goes round comes around.
The cancellation of the program has not only injured the UPND but also the majority of the Zambian citizens who have been denied access to important liberation information.
The ministry of information and broadcasting working together with MISA Zambia chapter must hold every media house accountable if they fail to offer free and balanced coverage to all Zambian citizens and political players.
In 2014 Mr Hichilema had to escape through roof of the same radio station after cadres from the PF led by the then provincial Chairperson Study Mwale armed with guns and machetes stormed the radio station.
Mr Mwale was again at the centre of the attention when his cadres armed with a truck load of stones and machetes stormed Moba Hotel where the opposition leader was scheduled to have a press briefing before embarking on party mobilization programs.
The PF in the province further in 2016, blocked Miles Sampa from disembarking from a proflight plane at Simon Mwansa Kapwepwe when he tried to launch the now defunct United Democratic Front. Mr Sampa later snicked into the province and launched his party in the middle of the night.
Mr Mwale who was awarded for his actions with a job as Lusaka Province Permernent Secretary later declared the Copperbelt Province as a no go province for the UPND.
Mr Hichilema has also been escorted from the province by State Police on several occasions whenever he went to appear in court in Lunshanya.