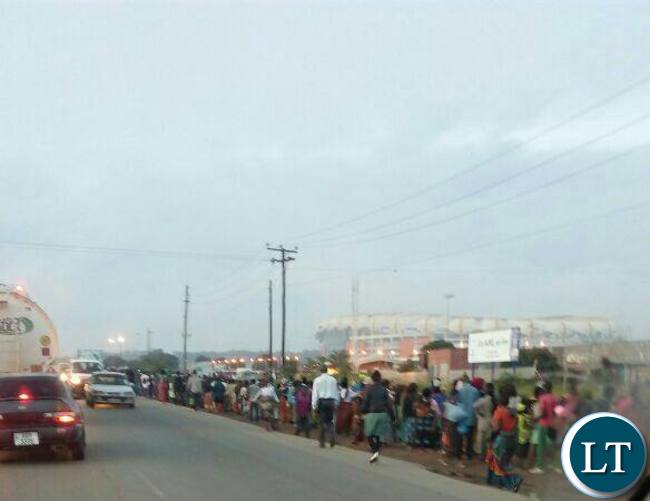 A stampede over free food has left around 10 people dead in Lusaka.
The stampede was caused after hundreds of Lusaka residents trooped to the Olympic Youth Development Center (OYDC) where a US based faith organisation Church of Christ was due to start giving free food.
Several others have been admitted to Chipata and Marrapodi clinics for treatment.
The exercise attracted scores of Lusaka residents from nearby compounds such as Chazanga, Chipata, Mandevu, Chaisa, Marrapodi, Mazyopa and SOS who gathered from as early 03 Hours.
Reports emerging indicate that 10 people died in the stampede but Police Spokesperson Esther Mwaata Katongo has put the figure down to eight.
Lusaka's UNZA Radio has reported that the death toll could be as high as 100.
The food parcels that were promised to the pay include a 10kg mealie meal bag, Sugar, Soya pieces, cooking oil and one head of cabbage per person.
The church had been issuing small pieces of papers in the compounds as tickets for one to stand on the queue today.
Mrs Katongo said among the dead, six are female, one male adult and one male juvenile.
She said five died on the spot while three died from hospitals where they were rushed for medical attention.
The Police Spokesperson said the victims are among the 35, 000 which the group called Lesedi seven, had invited for prayers at OYDC.
She said the group had also organized food hampers to distribute to people.
Mrs Katongo said this Lesedi seven is a grouping under Church of Christ.
"The injured are receiving treatment at Chingwere first level hospital and Chipata clinic while the bodies of the deceased have been taken to UTH mortuary. We have since dispersed the gathering and an inquiry into the matter has been instituted," She said.