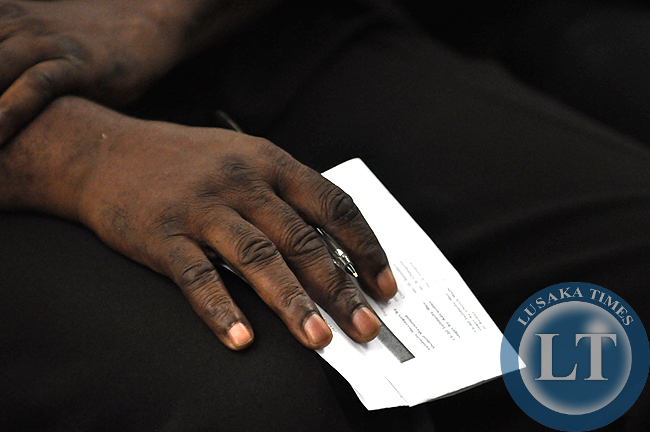 ONE-OFF RESPONSE TO COMMENTS ON MY PETITION TO THE SPEAKER OF THE NATIONAL ASSEMBLY PUBLISHED ON 7TH MARCH 2017
[Brig Gen Godfrey Miyanda – 10th March 2017]
Those who follow my debates will testify that it is my practice to respond personally to all bloggers who comment on my articles published by the Lusaka Times (LT). On this occasion I did not do so and I feel I owe the people an explanation. SOMETHING DID HAPPEN, more like a whirlwind or the carpet being swept off my feet. Soon after the publication I received a verbal message by cell phone that the Judgement would be delivered on 9th March at 09. 00 hours – welcome message but a surprise all the same! Please note that some of the comments by bloggers required that I delve into the merits of the case so I judged that that would not be prudent in view of the imminent judgement.
Indeed the Judgement was delivered on Thursday 9th March 2017 and I "lost" the case, but only that battle! It was a two-hour judgement that I consider a landmark one as it pronounced some important principles, including a hint at the need for an "Appex" Court as in the South African situation. I know that the judgement will attract a lot of attention from legal experts and enthusiasts. But as the Petitioner/Complainant I feel obliged to comment even before the experts do and even though the Speaker's Office has not responded to me. Unfortunately the Judgement was NOT given to me as the Court indicated that they would release the judgement later. Since judgements by the Constitutional Court are final and there is no appeal, I shall comment on it as soon as I am given a copy of it.
I found some comments by bloggers interesting and deserving of my reaction. As a practice I do not comment or respond to personal comments or those that do not address issues raised in an article; however I feel I should comment now and make clear some misplaced responses that if left unanswered maybe, as I have been told before, an "admission of guilt"!
I have categorised the responses in three groups: Those in Support; Those Against and Those who are Lost. But one who, for now, does not fall into any of these groups but deserves acknowledgement is [email protected] Nostradamus. To him I say "observation noted about the apparent delayed publication. Pse note that the publication was NOT a Press Release but a Petition directed to the Speaker of the National Assembly. So as a matter of courtesy and protocol I had first to serve the Petition on the Speaker's Office and give them some time to peruse and, if they saw fit, to react; sincere apology @Nostradamus". As for the categories: to Those For and Those Against – I say that they deserve a proper and full response after I have studied the landmark judgement. I believe we shall all enjoy and benefit from the debate that will ensue as I shall give my reasoned side as 'one of the combatants' in this modern David and Goliath contest!
For now I wish to comment on one @Ndake Khakis whose mission is to discourage and intimidate other contributors but does not address the issues at hand. Not only was he lost but he/she/it ("it" because it could be a computer!) fabricated or lied as usual. He/she/it posted, inter alia, that 'You General Miyanda have no right to petition ANYTHING! I will never forgive you….You supported the incarceration of KK'. I say to you @Ndake Khakis, you harbour a lot of misplaced hatred, the same hatred you are accusing me of with regard to KK. When the real MMD history is written you will find that I was one of the very few within the Cabinet who controlled the unbridled hatred and intended retribution against KK. Even your claim that I supported KK's incarceration is completely false. Some of those who were involved have passed on, others are still around but I was NOT one of them. If you harbour hatred do not join debates on my articles for they are a serious search for direction and the wellbeing of our nation and all its peoples. Avoid lies and innuendo on this medium or else just keep quiet. Those who have agreed with you are equally lost like the one who alleged that I misled the nation on 'load-shedding'. I have never commented on this topic publicly, though I have strong views on the topic. I have never joined your side as you have alleged; I do not know you or "your side"; perhaps you should favour me with your identity, maybe I may remember you and take back what I have said – till then you have definitely lied!
It is a pity that you, @Ndake Khakis, turn serious discussions such as my petition into cadre quarrels or election campaign. If you and your ilk continue along the same unproductive and unhelpful path, I shall never respond to any of your comments. Let us use this forum to cross-pollinate. I am always ready to shift my position on an issue but you have to persuade and convince me with reasoned comments on the actual subject matter. Thus far you have miserably failed, so it is Aluta Continua with the search for Good Leadership and Good Governance in Zambia. All Zambians are free to contribute. This posting is not intended for debate but for my clarification and apology. Bloggers are, as usual, free to post their comments on this posting but I shall not respond until I have studied the Judgement of the Constitutional Court. Have a blessed day.
GODFREY MIYANDA,
BRIGADIER GENERAL
A CONCERNED ZAMBIAN
[10TH MARCH 2017]