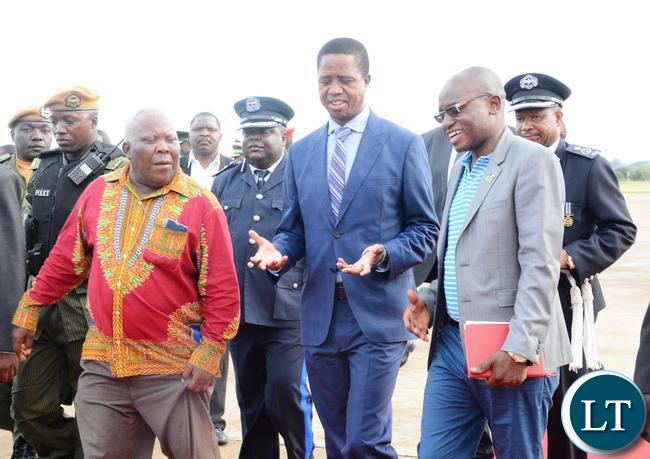 "A TENDER I supposedly cancelled against Roan Patriotic Front (PF) member of Parliament Chishimba Kambwili is the cause of bad blood and altercation in Parliament on Friday," Presidential Affairs Minister Freedom Sikazwe has revealed.
The grudge, he said, was the reason why Mr. Kambwili had taken every opportunity to attack and insult him publicly.
"I have now decided to write to the secretary general David Mwila to complain about his behavour towards me," Mr. Sikazwe said.
In an interview with the Sunday Nation, Mr. Sikazwe confessed that there was actually a big problem between him and Mr. Kambwili following accusations of cancelling a contract.
"I received a text message from Kambwili accusing me of cancelling his contract," Mr. Sikazwe has revealed.
And when asked whether it was true, Mr. Sikazwe denied cancelling Mr. Kambwili contract.
Mr. Sikazwe, who is Mpulungu Patriotic Front member of Parliament, said he was not aware of the contract which his Roan counterpart was accusing him of cancelling.
Mr. Sikazwe said he would be officially writing the secretariat to complain over the way Mr. Kambwili has been treating him.
"I will be writing to the secretary general Davis Mwila to complain about his behavour toward me.
"He has to tell the secretariat what wrong I have done to him because it is like I am becoming an injury to him where he thinks maybe I am against him to the extent that whatever I do he is against it," he said.
Mr. Sikazwe said whatever words Mr. Kambwili used on him in Parliament on Friday was as a result of anger that his contract was cancelled.
"That outburst by Kambwili in Parliament on me is as a result of the same contract which he has been accusing me of cancelling but I have never cancelled his contract and do not know it," Mr. Sikazwe said.
On Friday, there was an altercation between Mr. Kambwili and Mr. Sikazwe.
Mr. Kambwili, dismissed Information and Broadcasting Services Minister, branded Mr. Sikazwe a thief, saying he was stupid and threatened to sort him out.
The incident happened when Mr. Kambwili wanted to find out from Vice President Inonge Wina what had happened to the PF government's pro-poor policy of leaving casual jobs to Zambians and not the Chinese nationals.
The Roan MP was annoyed when Mr. Sikazwe interjected and appeared to suggest that Mr. Kambwili was anti-Government.
Mr. Kambwili retorted angrily, referring to the minister as "kabolala iwe", meaning ''you are a thief''.
Mr. Kambwili told Mr. Sikazwe that the PF did not belong to his father and that he would suffer after he leaves Government.
[Read 149 times, 1 reads today]