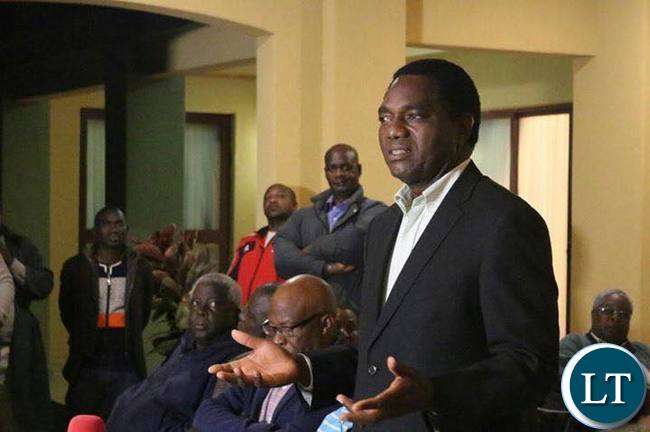 The office of the Fourth Republican President, Rupiah Bwezani Banda has reacted sharply to United Party for National Developement (UPND) President Hakainde Hichilema utterances that, for the love of money, the former president Rupiah Banda together with his son Nenani Banda had traveled to Morocco because they had an assignment to ensure that the Sahrawi Arab Democratic Republic is isolated by the African Union.
IN a statement released to the media, the office of the fourth President said that the UPND leader should not drag the name of the former head of state into his undignified poltical exchanges simple because of his failure to get to state house.
The statement further advised the UPND leader to learn to check his fact before uttering anything in the public.
This week, Mr Hichilema was quoted by the The Mast Newspaper saying Banda's love for money was very dangerous, hence his partnership with President Lungu who was also ready to give up the country's sovereignty "just to fatten his pockets".
"There are two citizens in this country who must be held accountable should Zambia be plunged into chaos – Edgar Lungu and his godfather Rupiah Banda. These two are playing very dangerous games all because of their love for money. They are busy fraternizing with Morocco a former African coloniser, which is unhappy with the independence of the Sahrawi. And we know money has been exchanging hands in this whole scheme, no wonder he has taken that trip to Morocco, not that so-called Crans Montana Forum. It's a scheme to deceive Zambians, but not everyone can be lied to," Hichilema, the UPND president, said yesterday. "Rupiah and his Edgar Lungu are in agreement to help Morocco push aside Sahrawi. How can you support an African country that is colonizing another African country? That is insane and we must stop this! Even the AU has refused to accept this, and us as Zambia want to go for it all because of a few selfish individuals who have been bought?"
He said Banda was President Lungu's envoy and advocate in a scheme to isolate Sahrawi from the rest of Africa.
"My friend, they have regrouped, just like they did to steal our victory but this time around they have regrouped and stealing even from foreign countries. The old man (Banda) is not even ashamed to be travelling to cut deals on behalf of Lungu. We are aware of what is going on and watching closely," Hichilema said. "Lungu must tread carefully, especially on how he is involving the country in corrupt deals; this will create tension between states. We cannot have people who are busy pushing for the continued suffering of the people of Sahrawi who have been seeking independence from Morocco for a long time now."
He said it was not right for President Lungu and Banda to advocate for the continued suffering of the people of Sahrawi since it's struggle for independence.
"Lungu and Rupiah Banda must draw a boundary. Rupiah was booted out of government by Sata's PF because of his government's corruption and this Lungu guy is doing exactly the same. But they should not plunge Zambia into chaos with their wrongdoing," said Hichilema.
Below is the full statements Released by the fourth President's Office