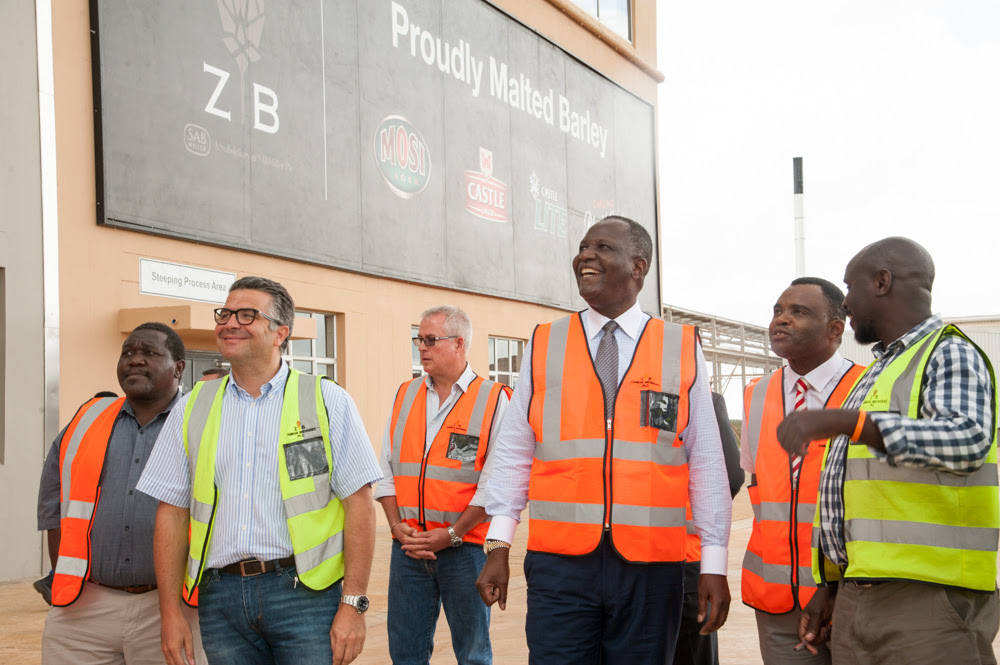 Finance Minister Hon. Felix Mutati toured the Zambian Breweries' new state-of-the-art maltings plant in the Lusaka South Multi Facility Economic Zone (LS-MFEZ) this week to familiarise himself with the operations ahead of its formal opening by H.E. President Edgar Chagwa Lungu later this month.
The new US$33 million plant is part of the group's long-term investment plan in Zambia and is set to boost purchases of barley from local farmers as a key ingredient in the company's popular Mosi, Castle and Castle Lite lagers.
"Zambian Breweries is a perfect example of the public-private partnership (PPP) and a role model of industrialisation, value addition and import substitution," said Mr Mutati
He said the company could make more money through the export of the surplus barley, especially that it was currently sourcing its ingredients through local farmers, which had in turn empowered those suppliers.
During a presentation by Zambian Breweries, Mr Mutati noted the need for industrialisation within the MFEZ. He was also happy that Zambian Breweries was contributing to employment creation and the company's support to small-scale farmers that were growing the ingredients for its beer production.
The company's multi-million dollar investment in the maltings plant is a component of the group's wider commitment to long-term investment, spurred by the government's recent reduction in excise tax on clear beer. In the last five years Zambian Breweries, National Breweries and Heinrich's Syndicate have invested more than US$300 million in long-term capital projects.
The group's investments are helping it to grow production volumes, thus increasing employment opportunities, enabling the company to buy more agricultural commodities such as barley, maize, sorghum and cassava from local suppliers and boost sales, thus increasing overall tax revenue to the government.
The new facility – the first of its kind in Zambia – will enable locally grown barley to be processed into malt, the main ingredient for clear beer, for the first time in Zambia, creating more business for farmer suppliers who provide the brewery with barley thus spurring economic growth, job creation and national development, explained Zambian Breweries Director of Corporate Affairs Ezekiel Sekele.
"We are working with barley farmers at Chanyanya, Kaleya and Kasisi. We are happy that barley is grown locally and are processing it within the country. This is an empowerment to the local people and also cuts importation cost of products that can be grown locally. This also has the direct benefit of a knock-on effect as the products are becoming more affordable," he said.
Construction of the plant began in January 2015 and employed 1,000 workers at peak of the construction.. Now that the project is complete, Zambian Breweries expects to recruit some 50 permanent workers.
The plant has a maximum capacity of 15,000 tonnes of finished malt per year, creating a surplus over the brewery's current demand of 10,000 tonnes and thus producing excess supply that can be exported.
The barley will be stored in ten massive 1,500 tonne-silos, each 32 metres high, which involved the country's largest single pour of concrete – 1,800 cubic metres – for their foundations.
[Read 33 times, 2 reads today]