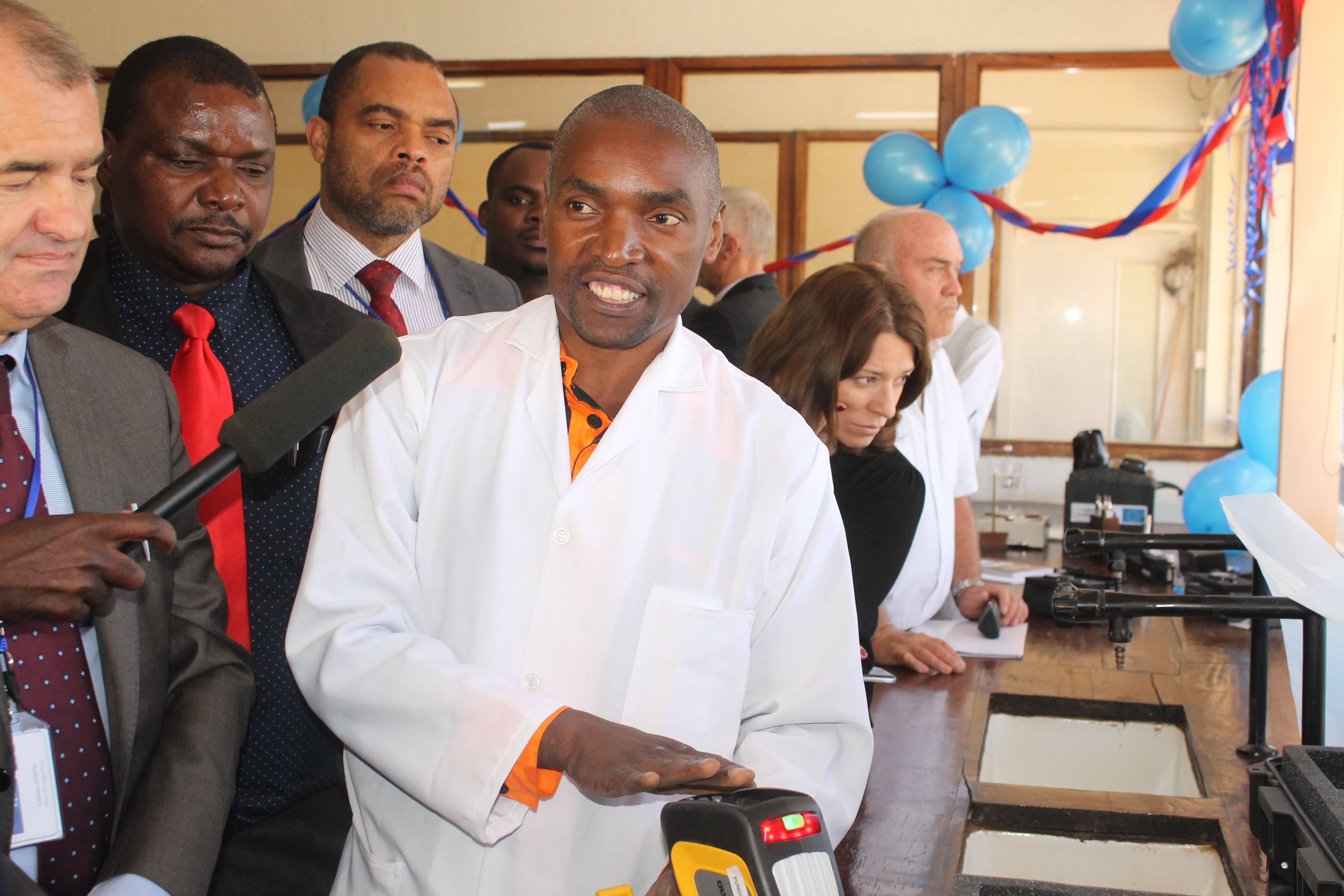 When we think of mining, generally speaking the first thing we think of is pits and diggers – not a laboratory full of chemists in white coats.  And yet this is a critical part of the mineral value chain in Zambia. By analysing minerals in a laboratory to understand their content, the precise royalties and payments required can be accurately calculated. This is where the chemists and technicians come in.
Our interview today takes us to the Geological Survey Department in Lusaka, or 'GSD' as it is commonly known, where we spoke to Mr Gift Mwaula, a Senior Technician Chemist. He took us through what the GSD's role is, and its significance to Zambian mining.
The first question a newcomer might want to know is – where exactly are the minerals to be found? Mr Mwaula explains that here at GSD, they have the answer. "If they [potential investors] come here, we have the maps of all the areas in Zambia that have been mapped for minerals. Not only that, we have historical data on the minerals that been already been mined over the years, by various mines."
But it goes beyond mapping.
"Every single miner operating in Zambia is required to pass through the Geological Survey Department before they can export their minerals. We have to verify their minerals, and issue them with analysis and evaluation certificates."
Even though the GSD plays such an important role in mineral development, Mr Mwaula says it faces challenges.
"A lot of times we are not able to go the mines due to lack of funds so we end up relying on these samples that the miners bring by themselves, and occasionally those samples are not representative of what they want to export. The risk then is that the sample being given to us is not entirely accurate."
So what are the responsibilities of a senior technician chemist?
"The senior technician chemist is the custodian of all the laboratory equipment. I ensure that the equipment is well calibrated, standardised and is working efficiently and accurately. I'm also involved in the analysis of mineral materials and environmental samples."
Recently, the European Union provided a whole range of new, state of the art equipment to the GSD labs. This is part of the Mineral Production Monitoring Support Project (the MPMSP) to the Ministry of Mines and Minerals Development, which runs from 2015 to 2019. Upgrading the GSD's equipment was one of the MPMSP's first priorities – and Mr Mwaula is relishing the new apparatus.
"I enjoy calibrating the equipment and troubleshooting because that really is the 'make-it-or-break-it' part of the job. It's critical to get the measurements right."
Among the EU-donated equipment are microscopes, XRF Analysers and a UV Spectrophotometer, which Mr Mwaula says is his favourite.
Although Mr Mwaula has been at the GSD for ten years previously he worked for Galunia Holdings where he rose through the ranks to the position of operations manager. "I also worked in Mopani Copper Mines for a year and Lever Brothers. But coming to work for government was cool. The first day was exciting because I was always looking forward to making a difference and when I got that opportunity, I was happy."
Mr Mwaula's father was a commercial farmer in Mukonchi who wanted his son to follow in his footsteps.
"I was so good at sciences when I was growing up so I clearly knew that my career would be in science but my father wanted me to do agriculture engineering."
Mr Mwaula says when he got to university in 1994 he opted to study Industrial Science Technology at the Copperbelt University. "The course was shorter than agricultural engineering and because of my good grades the government put me on bursary so I had an opportunity to follow my passion."
Recently, Mr Mwaula spent a year in India furthering his studies.