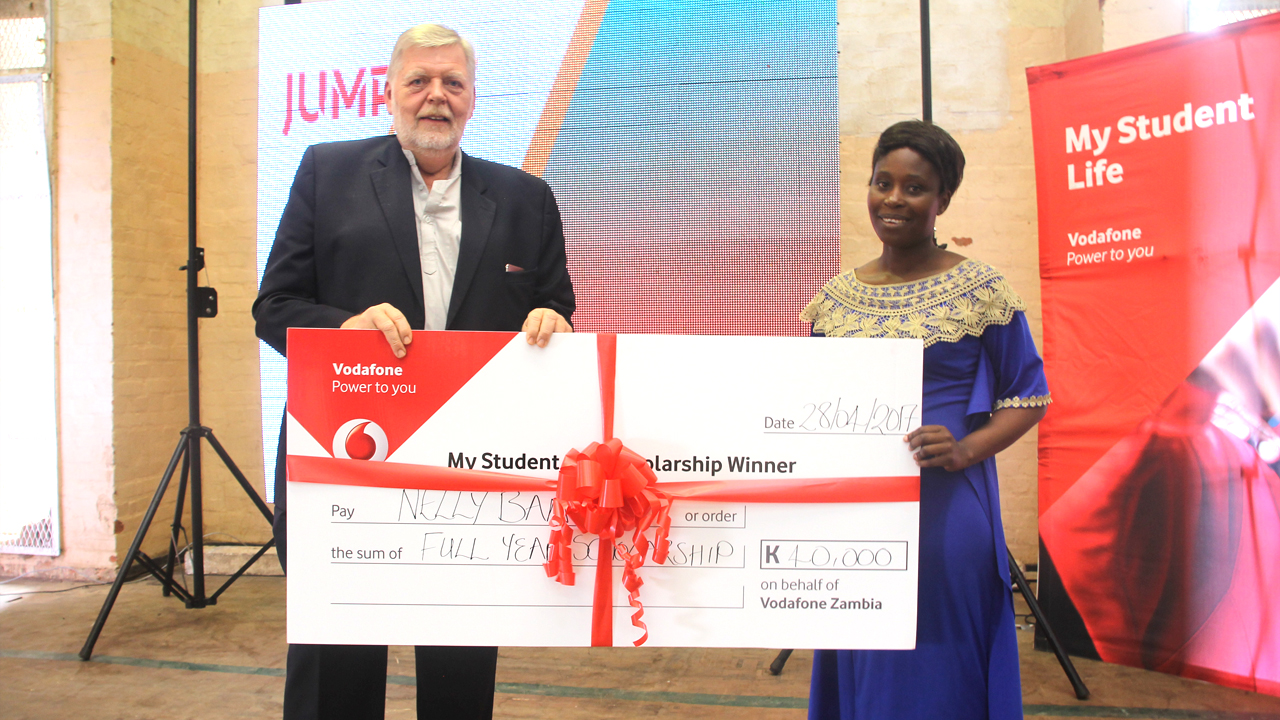 Vodafone Zambia, as part of its on-going commitment to education and youth empowerment, has given a one-year scholarship to a student from the University of Zambia (UNZA).
Nelly Banda, a student under UNZA's School of Distance Education, was drawn as the inaugural winner of the scholarship under the 4G network's 'My Student Life' initiative; an initiative that is targeted at university and college students with a package which includes full tuition for one academic year at the winner's current learning institution.
Speaking at the presentation, held at the University of Zambia (UNZA) Great East Road campus, Chief Executive Officer at Vodafone Zambia, Lars Stork, said the telco was very elated about the opportunity to help ensure every Zambian youth gets the opportunity to have access to quality education.
"Our 'My Student Life – Win a scholarship' offer was launched on the 26th of January 2017. Since then, we have seen thousands of students express interest in what we're all about as a business. We have invested over K200 000 in this campaign and are looking forward to investing further. I'd like to congratulate Nelly Banda for being the first of four lucky scholarship winners, and we look forward to seeing the rest," he said.
A visibly ecstatic Nelly Banda emphasised the need for the private sector to get involved in the welfare of university and college goers and proceeded to thank Vodafone Zambia for leading the charge on this score.
"Education is the ultimate equaliser and I wish to take this opportunity to encourage organisations operating in the private sector to complement the government's efforts to ensure education is available to all. A big thank you to Vodafone Zambia for their various education related initiatives and their commitment to student across the length and breadth of this nation," she said.
University of Zambia (UNZA) Dean of Students, Mr Lastone T. Zgambo, expressed his delight at the fruitful and mutually beneficial relationship the university shared with the next-generation operator.
"We are constantly impressed with the work Vodafone is doing, particularly with students from the University of Zambia, through the student ambassador programme, the JUMP Academy, and now the My Student Life offer. Any organisation that takes such a keen interest in the education of young people deserves to be commended," he said.
The My Student Life – Win a scholarship initiative forms part of Vodafone Zambia's commitment to enhancing the nation's learning landscape for students. Last month, the operator launched the JUMP Academy, an internet-enabled tool that offers unlimited access to a wide range of educational materials, tailored to the local curriculum and accessible through any device.