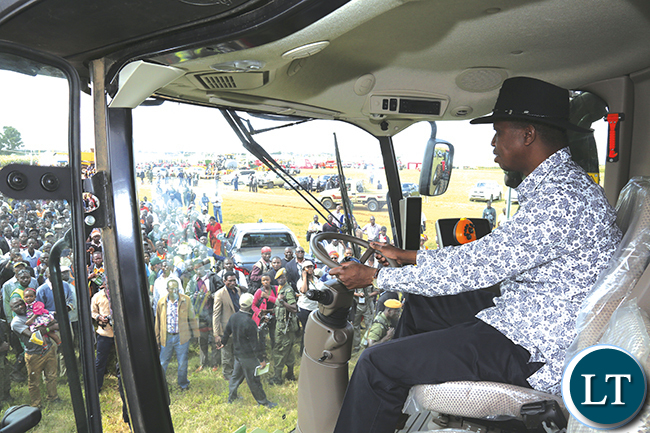 PRESIDENT Lungu yesterday challenged Zambians to embrace agriculture and seize the business opportunities that will be available to feed mankind when the global population reaches 10 billion by 2050.
And President Lungu has directed the Water Management Authority (WARMA) to immediately revise downwards water fees and fines that are prohibitive to the promotion of irrigation to develop the agriculture sector.
This follows a complaint by Zambia National Farmers' Union (ZNFU) president Jervis Zimba that water rights have now changed to permits with a shorter period, affecting the future of investments in irrigation farming.
Officially opening the fourth Agritech Expo at Golden Valley Agricultural Trust, which is hosting 227 pavilions with over 20,000 people in attendance, President Lungu said Government will continue supporting research and development to actualise modern agricultural systems that will embrace key drivers of the industry.
"Increased global population is posing a challenge to feed people, but this presents an enormous business opportunity to Zambians to feed this market that will be readily available. This country is among those blessed with good climate and soils that allow cultivation for almost every crop, and we have enough water and abundant resources.
"Personally, I am into fish farming with about 2,500 fishes in the pond at home and it will be ready next week, hence, I am encouraging everyone to get into this sector, and Government will continue enacting sound policies to drive agriculture forward," he said.
President Lungu urged international investors to keep coming to Zambia since the country will remain economically stable and peaceful.
"Those alleging that Zambia has lost direction are misleading you through the international media because we are working to develop the business sector through building of infrastructure to enable the private sector to thrive.
"Agritech Expo is a good platform, and through implementation of sound policies, farming will be conducted 365 days, and not seasonal. Various irrigation projects are happening across the country, and K18.5 million has been allocated to develop the fisheries, and measures are in place to fight animal diseases," he said.
Agritech Expo event managers Spintelligent Group director Emmanuelle Nicholls said the expo presents a platform to increase and strengthen linkages in agri-businesses.
ZNFU acting executive director Ellah Chembe said the expo has become the second biggest in Africa after South Africa.
"Everything now depends on the farmer to apply what skills they have learned at the expo," she said.
Minister of Fisheries and Livestock Michael Katambo said Zambia is now self-sufficient in poultry and beef, but Government is developing various programmes to promote and develop the livestock and fisheries sub-sectors.
And Minister of Agriculture Dora Siliya said the Agritech Expo has challenged Government to start "holding farmers with both hands" to promote the industry.